FROM OUTDOOR FESTIVITIES TO BLOOMING GARDENS, SPRING IS ALL ABOUT NEW BEGINNINGS! GET INSPIRED AND PLAN A FUN-FILLED WEEKEND TRIP TO LIVCO.
THURSDAY
Make Mt Morris, New York, birthplace of Francis Bellamy, the author of the Pledge of Allegiance, your basecamp for the weekend. Check into the Brick Inn, a beautifully curated bed and breakfast with a touch of vintage flair honoring the home's original 1915 Colonial architectural detail. Once you're settled in, hop in the car and head over to Letchworth State Park for an afternoon of exploring.
At Letchworth State Park, the Genesee River flows through a deep gorge that has been carved over thousands of years, over several large waterfalls, and through a dam that winds through the end of the park. Discover the park's hidden natural world of 66 miles of hiking trails, or explore on horseback or bike. Bring a picnic basket and enjoy a light snack next to waterfalls, hike one of the trails, or stop at scenic overlooks along the way for breathtaking views of the park. If you're feeling extra adventurous, book a hot air balloon ride with Balloons Over Letchworth, flying season starts May 1st.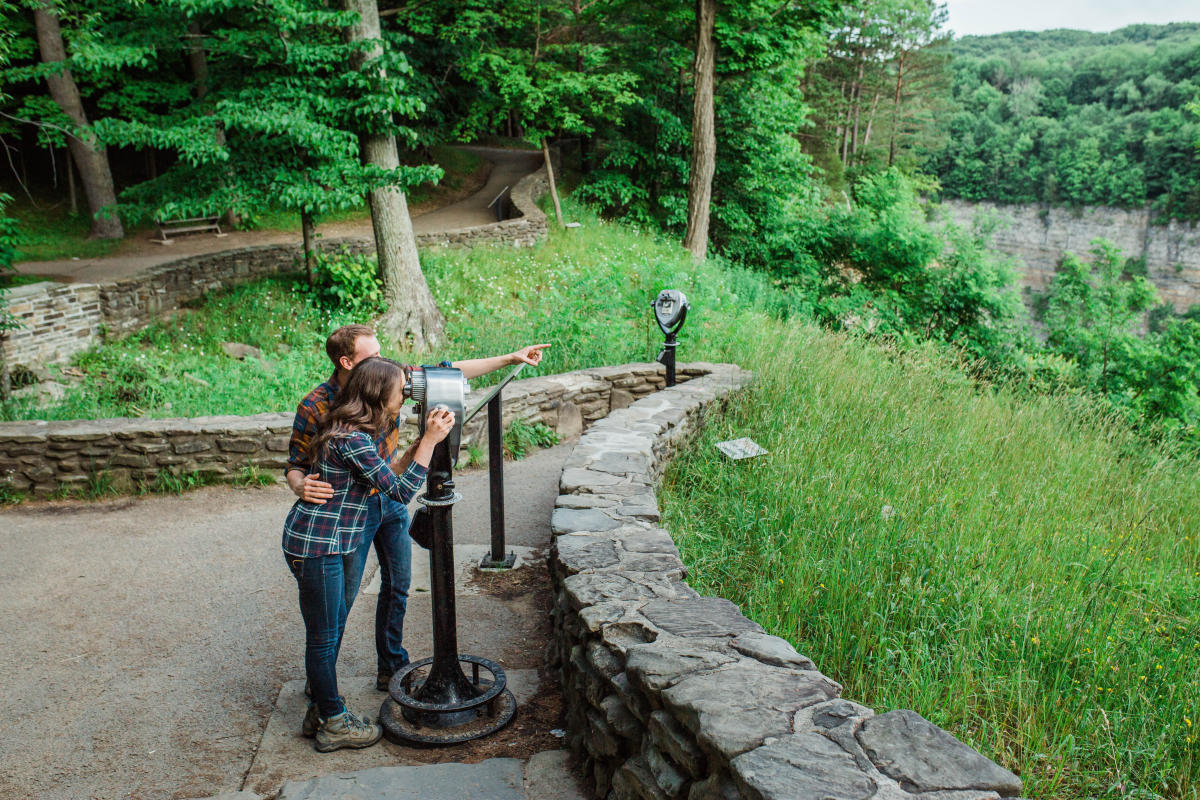 Before leaving Letchworth, sit down for dinner at Caroline's Dining Room in the Glen Iris Inn, formerly the country estate of William Pryor Letchworth. The Glen Iris Inn has welcomed guests since 1914 and overlooks the Middle Falls on the Genesee River. Enjoy classic dishes created with unique flair including smoked trout, prime rib poutine, and rosemary cavatappi.
FRIDAY
Wake up early for a full day of adventuring, good food, and live music. Head north to Lima for morning coffee and breakfast at Milk & Honey, a local favorite serving up seasonal lattes, homemade baked goods, and much more. If you can't get enough of their tasty treats, purchase a few extras for the road!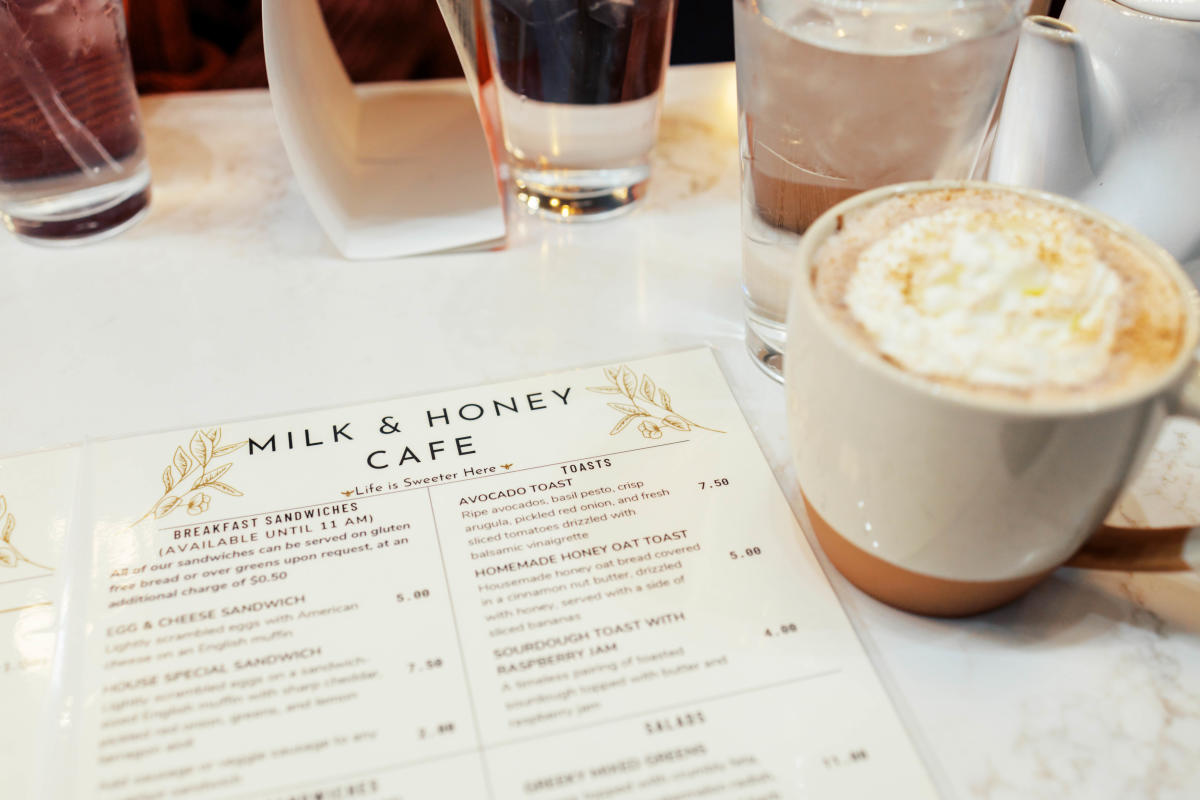 Afterward, go back in time for the day at the Genesee Country Village & Museum, the largest living history museum in New York State. You'll get to explore tons of spots including the Historic Village, home to 68 buildings from the 19th century ranging from a pioneer farm to a Victorian mansion. Interact with costumed interpreters who will share knowledge and stories of daily life, trades, and culture, including the blacksmith, potter, tinsmith, and farmers.
Be sure to stop by the on-site John L. Wehle Gallery, which features extraordinary collections of 19th-century clothing, wildlife, and sporting art. Check out "Duck, Duck, Shoot! The Story of American Waterbirds," a sprawling exhibition exploring waterfowling in the 19th century and its ties to conservation movements in the 20th century. Plus on a beautiful spring day, head over to the Nature Center which offers five miles of marked trails perfect for outdoor adventuring.
You're sure to have an appetite after all that exploring (!) so swing back towards Lima for a late lunch at The Normal. Serving up unique takes on classic BBQ cuisine, the Normal is the first tipless restaurant of its kind in LivCo.
Just around the corner, close out the night dancing away to live music at Fanatics Pub. This hidden gem is a must-see destination for any blues and acoustic rock music lovers. With performances by Grammy Award-Winning Artists to Blues Music Award Winners, you might find your next favorite artist performing the night you visit. And if you get hungry again, check out their class bar menu featuring pizza, wings, and mac 'n' cheese.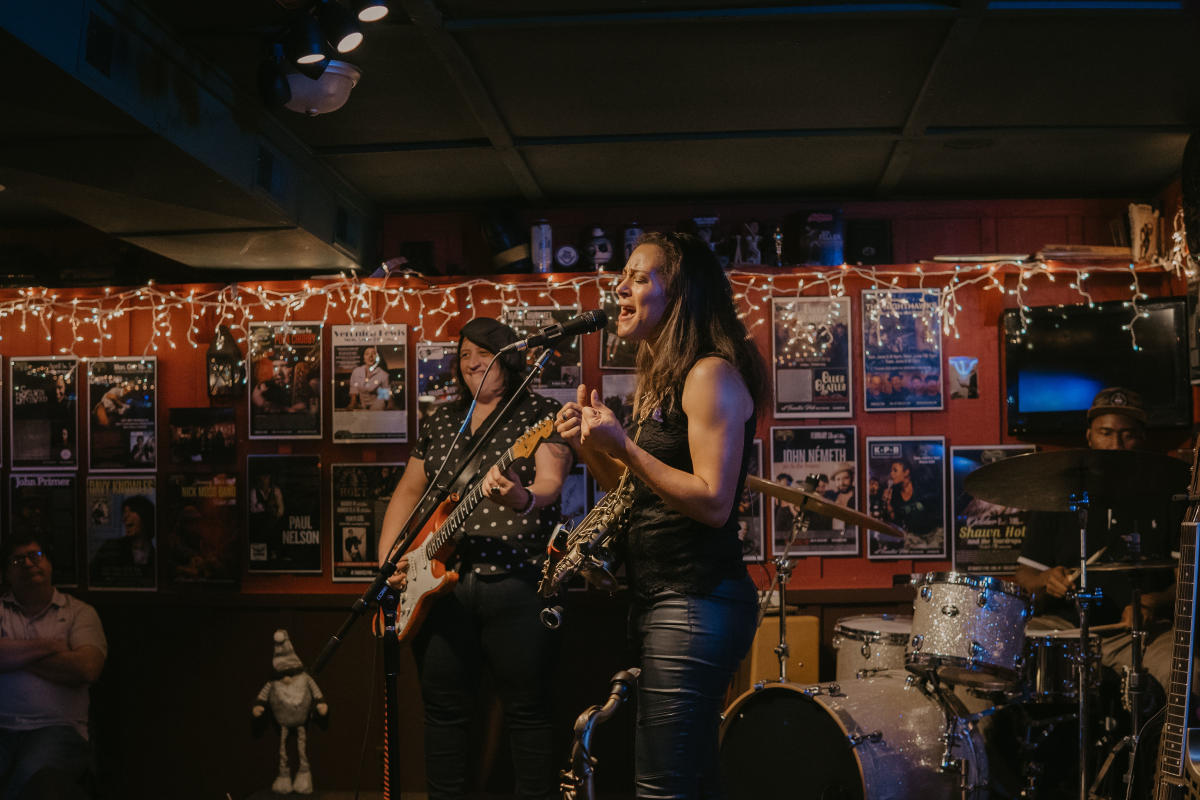 SATURDAY
Head to Geneseo for the start of the day! Fuel up with breakfast burritos and coffee at Cosmic Charlie Cafe just steps from Main Street. Of course, you can't come to LivCo in the springtime without seeing some flowers in bloom so drive over to Linwood Gardens to explore one of LivCo's signature spring events, the Tree Peony Festival featuring a distinguished collection of Japanese and American tree peonies.
The Gratwick Family, who owns Linwood Gardens, opens their private gardens every spring welcoming the public to explore the garden landscape that was designed in the early 1900s, with pools and fountains, ornamental trees, and an open view of the valley below. Plus the Geneseo-based bakery, Sweet Arts Bakery will be on-site selling light lunch options and treats. Advanced reservations for the festival are required at linwoodgardens.org.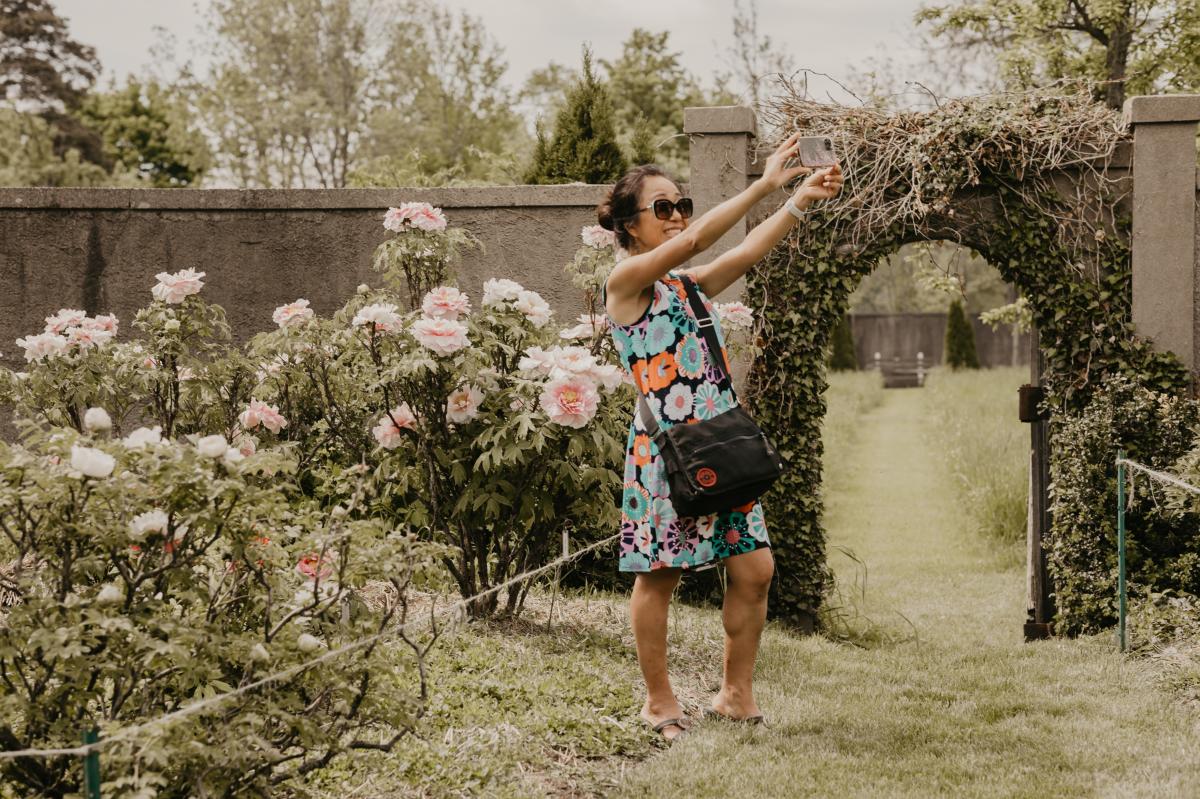 Keep your day of fun going with stops at nearby craft beverage destinations, Woodlawn Distilling and Dublin Corners Farm Brewery. Both stops on the LivCo Libation Loop, Woodlawn Distilling is LivCo's first farm-based, family-run distillery since prohibition times and Dublin Corners is a small, family-owned craft brewery serving up fresh craft brews made with hops grown right on the farm. And if you find yourself back in Geneseo, Dublin Corners also has a taproom on Main Street you'll want to check out!
Once you're ready for dinner, head to Piffard, New York for an elegant night out at the Yard of Ale. Chef Brian Simmons prepares a diverse dinner menu, as well as a "featured menu" each week, showcasing specialty and seasonal ingredients including one of their most popular menu items, the slow-roasted Angus beef prime rib. This restaurant is a popular spot for locals so making a reservation ahead of time isn't a bad idea.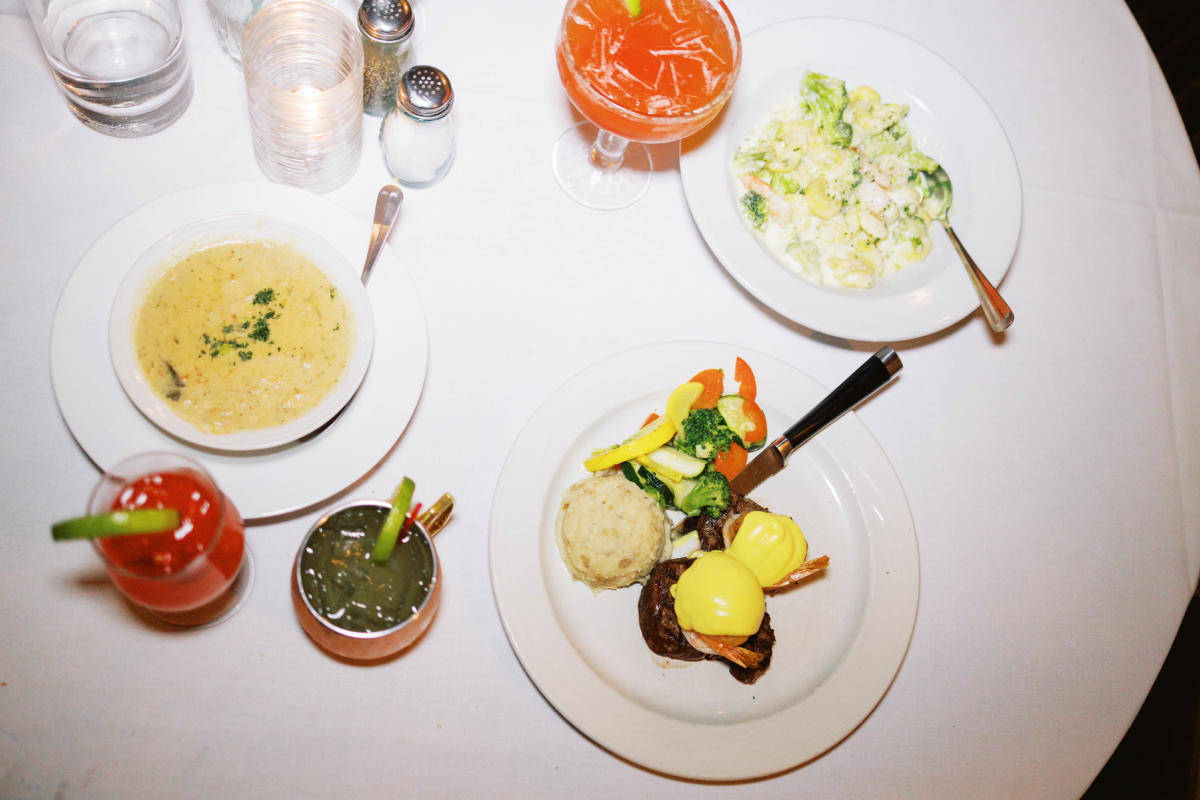 Don't forget to save room for dessert! On your way back through Mt Morris, stop on Main Street for late-night ice cream at Zeppo's Creekside Creamery. With unique flavors and seasonal recipes, you'll find something for everyone!
SUNDAY
On your final day in town, beat the cabin fever of winter's past at the Genesee Valley Greenway State Park which runs through Mount Morris. This 90-mile outdoor recreation corridor is ideal for hiking, running, and cycling along the old transportation routes of the Genesee Valley Canal and the Rochester Branch of the Pennsylvania Railroad.
Be sure to leave time to explore downtown Mount Morris as well, where you'll find tons of antique shops and murals along Main Street. Go treasure hunting at Carvings & More, featuring finds from more than 35 local artisans and 12 antique dealers as well as handmade wood carvings specially created by the owner's son. Shop for local products and candy at Wendy's Pantry, a country store with an extensive selection of old-fashioned candies plus a refrigerated confectionary case for fancy truffles and other chocolate treats. Their pantry is stocked with natural and local New York State items including mustards, nut butter, hot sauces, dried fruits and beans, and exotic grain blends.
Finish off the weekend with a late lunch and brews at Strange Design Public House. This brewery and restaurant offers rotating taps of their latest brews and a menu that emulates the mantra "something similar but different", you'll recognize many traditional items with unique twists. The menu changes seasonally to incorporate local ingredients and offers vegetarian and kid's options, making it an inclusive dining space for everyone.