EXPERIENCE THE 2024 TOTAL SOLAR ECLIPSE IN THE HEART OF THE GENESEE RIVER VALLEY.
The Great North American Eclipse will capture the attention of millions on Monday, April 8, 2024, as they flock to the eclipse's path of totality in order to take in the astronomical event in its full glory. Western New York and the Genesee River Valley is one of the ideal destinations that sits on the path of totality, and we're already gearing up to welcome the crowds who are making their plans to be here next spring. 
If you're among them, there are a few things you'll need to keep in mind. For example, the official LivCo viewing site will be situated at the Livingston County Fairgrounds in Caledonia, where you can find campsites, parking spots, music, food, vendors, and more. Likewise, if you want to prep for the big event in advance and purchase your official eclipse glasses, as well as other eclipse-related gear and souvenirs, you can do so at VisitLivCo.Shop. However, beyond these logistical basics, there are a few other things you might want to know ahead of time.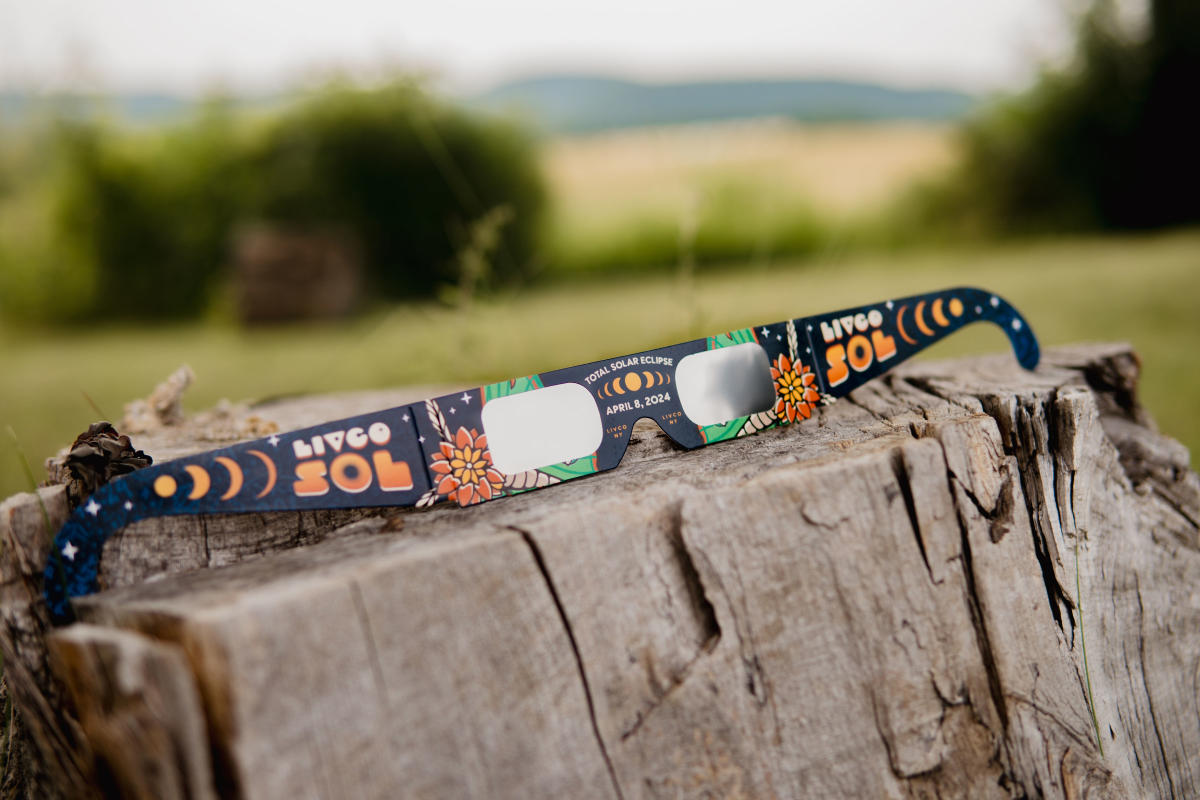 ---
A WEEKEND FOR ECLIPSERS
Of course, the eclipse only lasts a few minutes. How will you spend the rest of your time in LivCo? There's no shortage of things to do in LivCo during the week of the eclipse. The towns and villages, as well as many local businesses, will be hosting celebrations leading up to, during and after the eclipse.
If you're an arts-lover visiting LivCo for the occasion, be sure to stop by the Genesee Valley Council on the Arts, for Sunlight and Shadows: A Solar Celebration. The gallery will showcase regional artists on select days in early April, and conclude with a viewing party on April 8th, with family activities, games, and hands-on art projects.
For foodies, the Bourbon, Brew, and BBQ Walk in Mount Morris will be a can't-miss. On Saturday, April 6th, Mount Morris Main Street businesses will host breweries and distilleries, offering samples and tastings as you visit the local purveyors. Barbecue trucks will be on-site, too, as will live entertainment.
Brews, booze and barbecue not your thing? On the same day, April 6th, you can set aside your evening for an enchanting event at The Wadsworth Homestead in Geneseo. The Lunar Ball will feature dining, dancing, and cocktails at this elegant, historic estate.
At Livingston County's only distillery,  celebrate the weekend with friends and family - Black Out at Woodlawn Distilling. Located in Linwood, Woodlawn Distilling will be releasing a limited edition, LivCo Sol-inspired liquor and two specialty cocktails in honor of the solar eclipse, topping off the celebrations with a solar eclipse viewing party on Monday, April 8th.
On the day of the eclipse, Monday, April 8th, you can head to the Darkside of the Meadow Party at Mountain Meadow AirBnb, for an idyllic setting in which to view the eclipse, as well as other festivities, thanks to the live music, food trucks, art vendors and more. The venue is even sanctioning off a part of its grounds for photographers to capture the eclipse without obstructions or interference.
Looking for open space and a lengthy totality? Celebrate the eclipse at Sol of Lima in Mark Tubbs Park, just minutes from downtown Lima. Families and friends can enjoy educational displays of astrophysics, light, and shadows, an educational series hosted by the Lima Public Library, and a live eclipsed-themed music event.
Plan ahead and grab your tickets for Divided Sky: A Totality Tailgate at Strange Design Public House in Geneseo. Your $250 package includes everything you'll need for the perfect eclipse weekend including one parking spot, access to the brewery and restrooms, four meal tickets, and eight tasting tickets (commemorative glasses included!) for special beer releases. No matter the weather, experience the eclipse via their NASA Live Stream and get the chance to participate in the Divided Sky Time Capsule.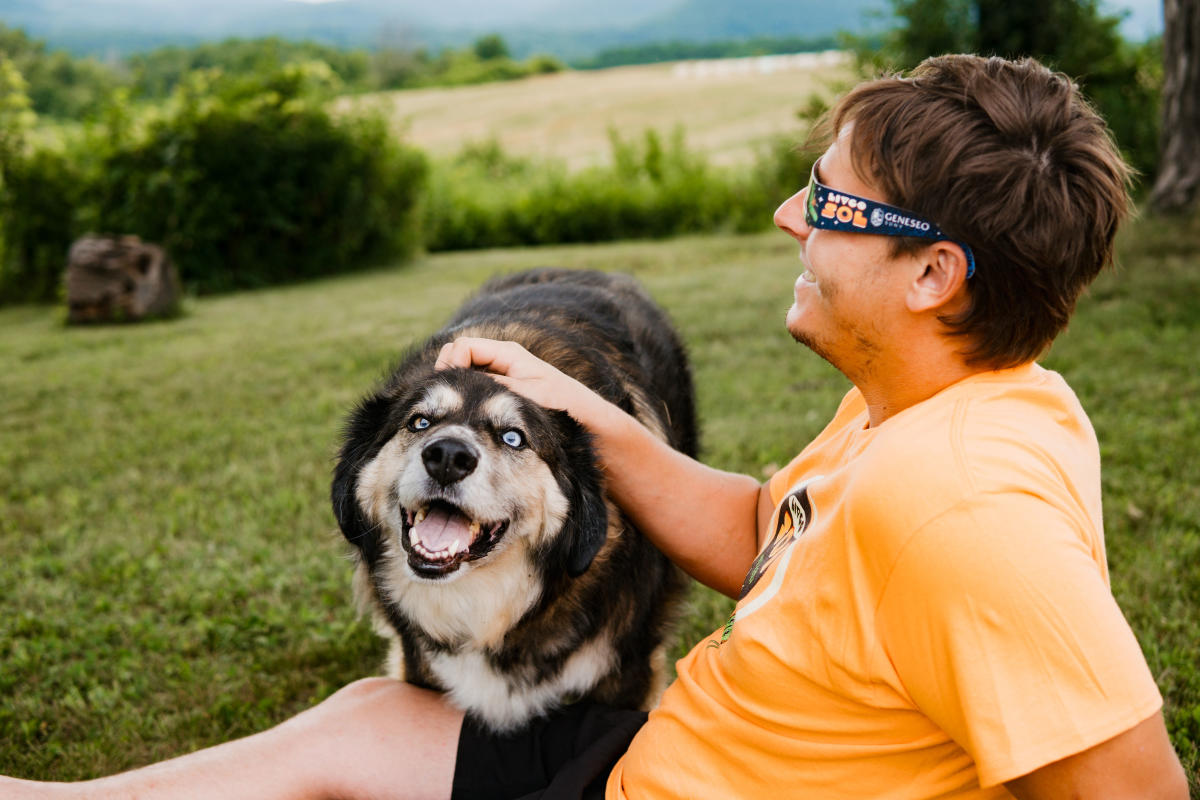 These events only scratch the surface of all the fun happening in LivCo in celebration of the eclipse. For everything you might need to plan the ultimate eclipse-viewing experience, be sure to visit livcosol.com.
---
THE SCIENCE BEHIND THE SOLAR ECLIPSE
If this is your first solar eclipse viewing experience, you might have a lot of questions. What even is a solar eclipse? How does it work? Why do I need eclipse glasses?
Put simply, a solar eclipse happens when the moon passes between the sun and the Earth, blocking the sun and darkening the sky, creating a dusk or dawn-like atmosphere. Solar eclipses aren't necessarily rare, but they don't often follow the same path twice in a row. The 2024 solar eclipse will impact a huge number of people, many of whom may be seeing a solar eclipse where they live for the very first time — and might never see one again. 
Because of this, a solar eclipse is a big deal, both for travelers who come to see an eclipse and locals who live in the path of totality. A solar eclipse can even change a life, inspiring kids to explore science careers or instilling a love for eclipse chasing in adults. 
However, it's important to remember that, when you view a solar eclipse, you're still technically looking at the sun. If you look at it with your naked eyes or through an unprotected telescope or binoculars, it can cause eye damage or blindness. Luckily, you can easily and affordably acquire special eclipse glasses that will allow you to view this spectacular sight safely and comfortably.