STEP INTO A WORLD OF ARTISTRY AND CREATIVITY AT TALULAH'S FANCY WILDFLOWER FARM STUDIO & GALLERY.
When it comes to the beauty of nature, few things compare to stunning wildflowers. Maker and artist, Tamara Stopinski, is creating handcrafted treasures and growing colorful wildflowers at Talulah's Fancy Wildflower Farm Studio & Gallery just minutes from downtown Lima. Tamara's passion for sharing beautiful things is evident in every aspect of her studio and gallery where you can explore a selection of jewelry, spa products, pottery, hand-sculpted and forged metals, and, of course, wildflowers.
From the moment you enter Tahulah's, you are surrounded by the vibrant energy of handmade jewelry, beautiful wildflowers, and unique pottery creations. Explore the gallery adorned with stunning pieces of artwork, showcasing Tamara's talent and love for craftsmanship. And Tamara's jewelry collection is especially one-of-a-kind, from delicate silver necklaces adorned with semi-precious stones to round hammered earrings inspired by the wildflower meadow, there is something for everyone.
Let's not forget about the wildflower bouquets. Made to order, with vibrant colors and unique combinations, these flowers will take your breath away. Talulah's Fancy Wildflower Farm Studio & Gallery is a place where you can discover your inner artist and be inspired by the beauty of nature. Come explore this artistic oasis and meet the artist creating it all – you won't be disappointed.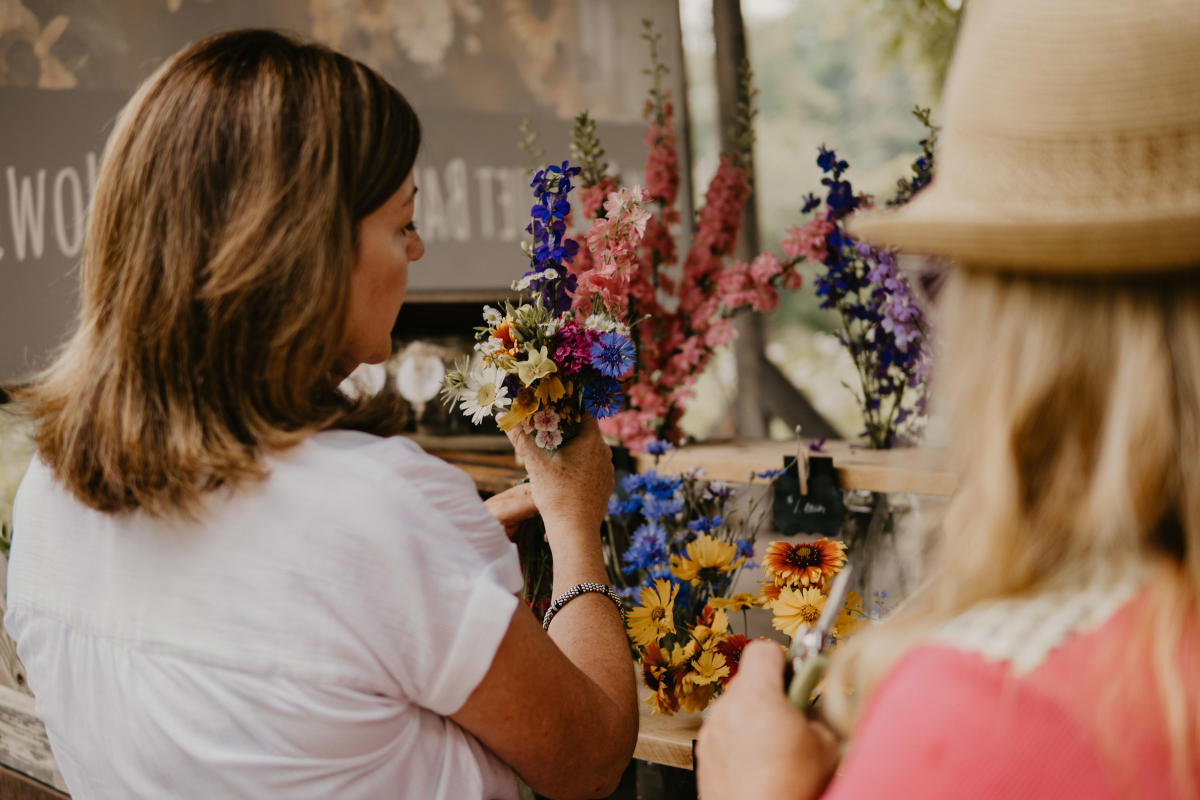 Why wildflowers? Tell us a little bit about your business and the different things people can experience when they visit.
Our wildflower meadows were planted as a result of ash tree devastation to be a habitat replacement for pollinators and birds. They grew to be an important source of inspiration for the one-of-a-kind pottery and jewelry designs that I create in my meadow studio/gallery. Open 10 am to 4 pm, Thursdays through Saturdays, May through December, and more on the wild side than that of a traditional flower farm - we tend to our wildflowers a bit more loosely with the hope of offering a relaxed and creative atmosphere. In the spring, people can expect an array of healthy perennials that have been propagated directly from our meadows and when summer comes we offer wildflower bouquets made to order as well as bouquet-making events.
How about your jewelry? Tell us about some of the work you're most proud of.
It has always been my goal to create truly one-of-a-kind designs, unique pieces that have a vibe and will resonate with the people they are meant for. I recently created a new concept of wildflower meadow inspired pieces and they are like tiny little landscapes of what I get to see from the window of my studio. Made of forged and hammered sterling silver and featuring semi-precious stones, I'm really excited to see how these designs grow!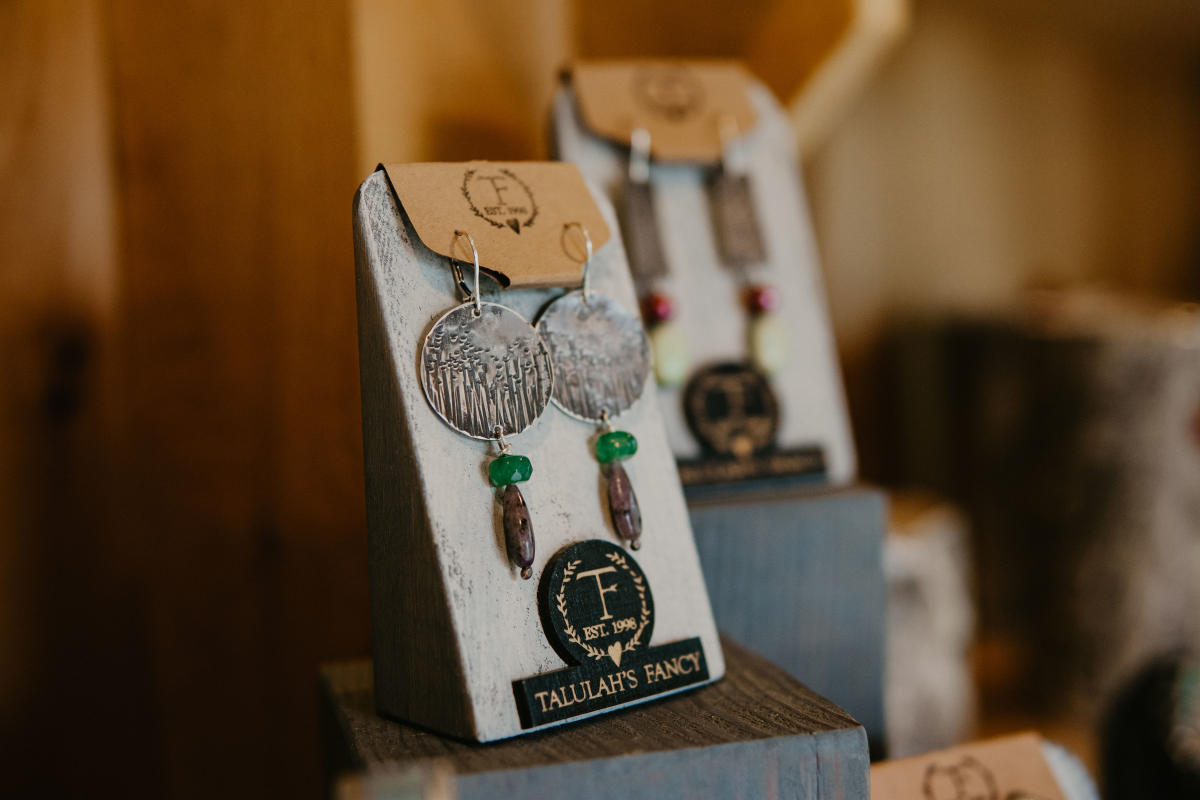 What is your creative process?
I like daydreaming and taking time to be still and imagine, to problem solve and explore. This process helps me come up with my own solutions and it also cultivates new ideas to keep my work original by adding new layers to my designs.
What's the best thing about Livingston County? What brought you here?
I love the small town feeling you get wherever you are in Livingston County as well as the beautiful farms and landscapes that surround us. It is a feeling that inspires me as an artist, as a person, and as a member of our community.
What's the most important lesson you've learned as a maker?
It's important to me to stay authentic, to keep adding those unique layers - so that there is always something new to get excited about and something new to share with my clients.
What's coming up for you and your business in the coming months?
As the wildflower seasons begins to taper off and the landscape around me changes I'll begin working on our woodland inspired pottery for dish gardens, followed by stoneware pumpkins, mice, tiny luminary houses and cutout cookie ornaments as well as building a large selection of jewelry for the holidays.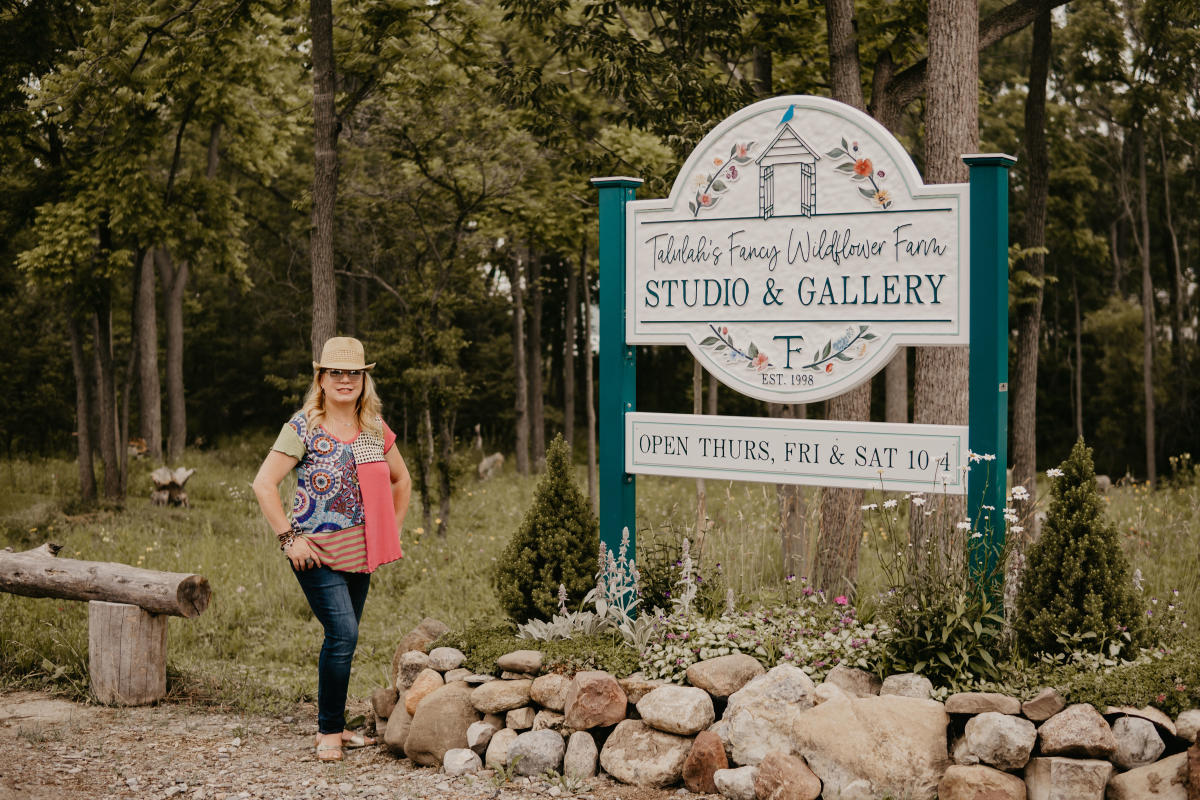 Shop for jewelry and products online at talulahsfancy.com or stop by the open-air studio for the latest pottery creations as well as the full selection of artistic offerings!