IF BEAUTIFUL LANDSCAPES, STATELY MANSIONS, AND REGAL SETTINGS ARE ALL OVER YOUR WEDDING VISION BOARD, YOU'RE GOING TO LOVE THESE ESTATE HOMES FOR YOUR ROMANTIC DAY.
Looking for a dream venue for your upcoming nuptials? If wedding bells are in your future, LivCo is home to beautiful venues that serve up rural romance in spades.
The Genesee River Valley's estate homes provide a picturesque backdrop to your big day, particularly if you're planning a spring or summer wedding, when the estate grounds are in full, lush bloom. It's not just beauty that these venues provide, though; it's also convenience. These are places that know how to utilize both indoor and outdoor spaces to create a wedding that's elegant, timeless and memorable.
These estates offer options to stay overnight, on-site, with your bridal party, and they frequently partner with local vendors like photographers, bakeries, florists, and food trucks, to make your wedding planning all the easier — and what bride or groom wouldn't want that?
See what awaits you at these two LivCo estate homes and venues, should you choose to celebrate your wedding day with friends and family in either of these charming settings.
---
THE BEST OF BOTH WORLDS AT HILLCREST ESTATE
Can't decide between a mansion setting or a rural retreat for your wedding venue? The Hillcrest Estate offers the best of both worlds as "the mansion in the woods."
The 1899 mansion set on 120 wooded acres in Pavilion, New York boasts an array of potential settings for your wedding ceremony, reception, and other related events, across its 32 rooms in the main house (including a ballroom!) and beyond, on the estate grounds. Throughout the property, you'll find picture-perfect accents and touches that will make your wedding (and your wedding photography!) truly enchanting, from the winding driveway to the reflecting pool, to the covered veranda and the tiered terrace. Before and after your ceremony, you'll appreciate the on-site accommodations for up to 14 guests, the bridal suite for day-of prep, and the in-house catering and bar service provided by The Hillcrest Estate in partnership with the Yard of Ale Restaurant.
Not yet sure if the Hillcrest Estate is right for you and your sweetheart? Visit the estate for one of its spring or summertime events, like the annual Summer Solstice Soiree or wintertime Mystery Murder Dinners, to see just what makes this historic property so special.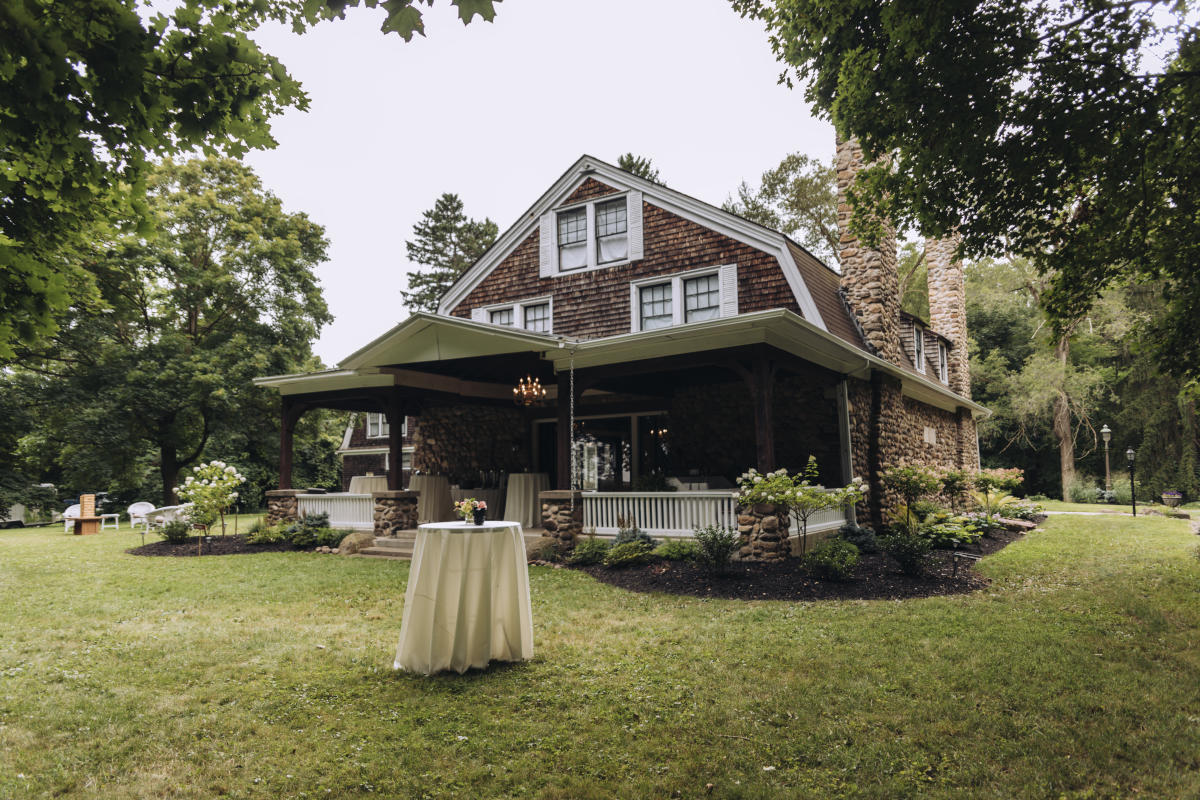 ---
HISTORY AND ELEGANCE CONVERGE AT THE WADSWORTH HOMESTEAD
A rich heritage and ample history await at The Wadsworth Homestead, a unique property passed down through seven generations since its construction in 1804. With its spot overlooking the Genesee River Valley and its 300 acres of expansive space, the Homestead feels like a private, posh oasis — but comes with the oh-so-desirable convenience of being located just a half-hour drive from Rochester and within walking distance of Geneseo shopping, dining, and other attractions.
The spacious manor home features a range of settings that a couple can use for a dream wedding backdrop, from the scenic porch and lawns to the delightful library. From boutique affairs to parties of up to 250 guests, there's a spot for every wedding.
Beyond the ceremony, couples enjoy access to upstairs suites that can hold up to 12 guests before or after the wedding. There are also several spaces suitable for the bridal party as they prepare for the main event. To further this convenience, the Homestead offers the help of an on-site coordinator for planning sessions and to manage the "day of" schedule and vendors as well as a dedicated catering team in partnership with the Caledonia Village Inn.