Fresh hops, cool brews, and hot music - that's exactly what you'll get at Dublin Corners Farm Brewery. Enter this charming farm brewery, where you can kick back and relax with friends, take in some live music, and enjoy local beverages both indoors and outdoors. It's the perfect spot for summertime fun!
The best breweries are farm fresh. And when you visit LivCo breweries, you'll notice something different – something fresh. It's not just hops and grains. It's local ingredients, grown and harvested with care by the brewers themselves. It's beer that comes from the earth, as natural as the streams and hills of the Genesee River Valley itself. If that's not enough to convince you, this particular brewery also offers live music and events all summer long, making it the perfect spot for an afternoon or evening out with friends. So sit back, relax, and enjoy a pint of brew in the sun at Dublin Corners Farm Brewery.
GET TO KNOW THE CRAFT BEVERAGE PRODUCERS BREWING ON THEIR FARM
Heather and Justin Grant, Owners of Dublin Corners Farm Brewery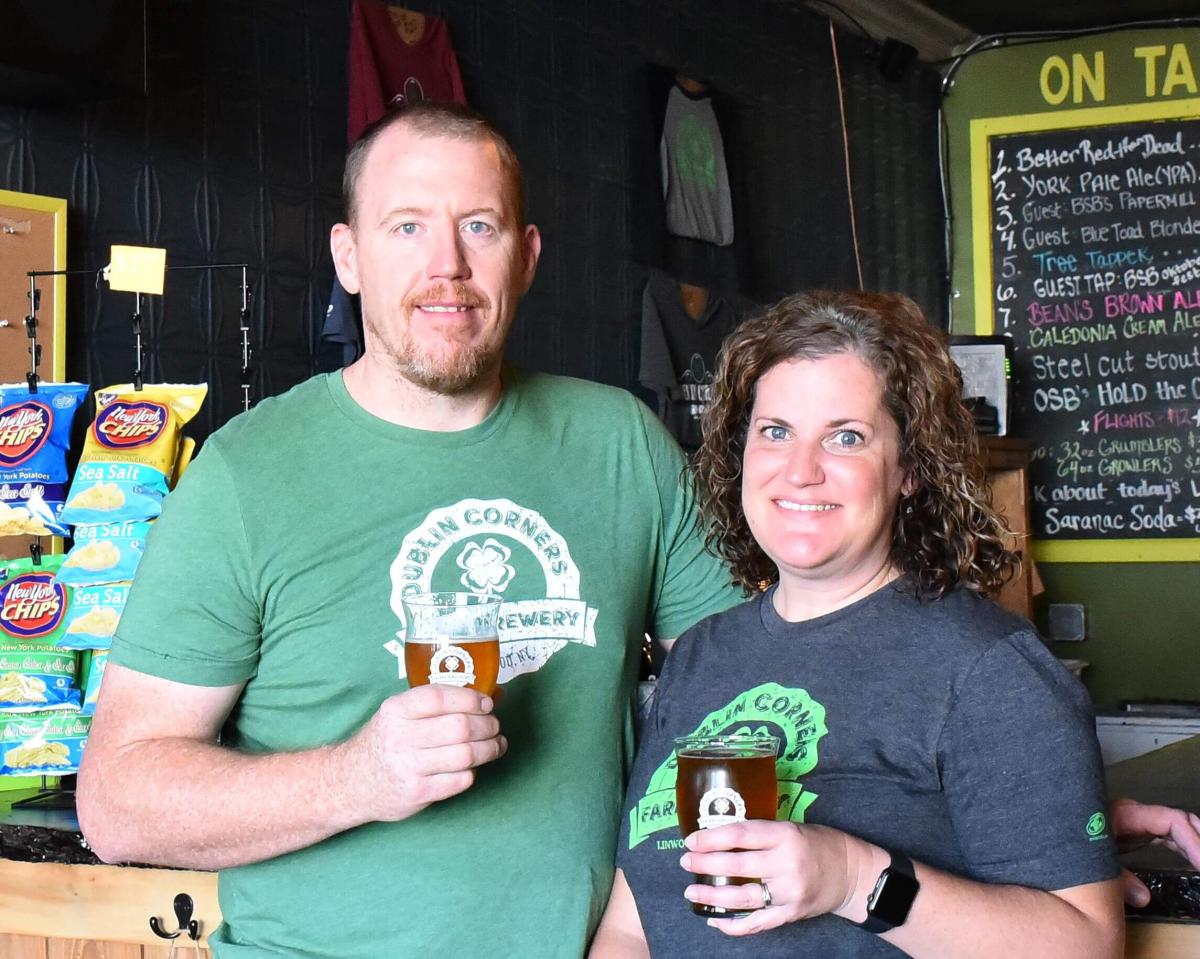 Tell us a little bit about Dublin Corners Farm Brewery.
Our brewery location is located on our 5th generation family farm, set in rolling farm fields in Linwood, NY. The barn that now houses our brewery was actually built for our wedding 20 years ago, but we had no idea what potential it held at that time! We started out growing and selling roadside pumpkins for fun, then expanded into growing hops which of course evolved into beer making. When the product started tasting really good, we decided to share it with others and opened our doors in 2016.
If you've been with us from the start, you know we've grown a lot since then in many ways! In 2019, we opened our Geneseo Taproom and enjoyed expanding to a whole new community. That same year we were honored to bring home Gold and Bronze medals for our flagship Better Red than Dead at the NYS Craft Brewers Competition.
From the start, having live music to go with great craft beer was a priority of ours. Over the years, we've had a blast hosting a variety of incredibly talented local musicians and watching new musicians grow and expand. Most recently, we added a large open-air pavilion to host outdoor music and events and expanded our brewing system which allowed us to independently distribute our brews in the region - keep your eyes out for our brews on tap at other Genesee Valley bars, breweries, and restaurants!
Why did you open your business in LivCo?
We opened our brewery in our backyard before the brewery boom really started in NYS, but it's been great to be part of the growing craft beverage scene here. Livingston County is our home and we would not want to be anywhere else. We have been lucky to have the support of the community and have loved to see our little brewery become a destination for neighbors and visitors alike
What is your go-to food pairing for your drinks?
Although we've almost always got a few classics on tap like Better Red than Dead, our award winning amber ale and best seller, we try to match our brews to the flavors of the season. This summer we'll be focusing on light and refreshing flavors to pair with the bold, local produce hitting the farm stands nearby. For an easy weeknight treat, our go-to this month is Aunt Sally's Czech, a light and crisp Czech pilsner, paired with fresh vegetables from Anderson's Farm Market, just 2 miles south of the Farm Brewery on Route 36.
If you're looking to keep it easy, join us on a Food Truck night and ask your beertender for a suggested pairing or grab a flight to accompany your meal!
What's coming up for Dublin Corners location(s) this Summer/Fall?
We host local live music every Friday and Saturday at both locations year-round but the Summer is really when things come alive at Dublin Corners! You can always find out about upcoming music and our summer Food Trucks at DublinCornersFarm.com/Events but we're especially excited for our upcoming select Brunch & Beermosa Sundays, trivia nights at the Farm, and July 7 & 8 Summer Fest Weekend in Geneseo (pro-tip: when the restaurants get busy, order your food to-go and enjoy it with a cold drink in the a/c at our Taproom on Main Street!).
We've got a few other surprises up our sleeves for this summer, follow along on Facebook or Instagram at @dublincornersfarm!

What's the most important lesson you've learned as an entrepreneur/what advice would you give to someone else?
Tap into the power of the people and the community around you! When we first opened our doors, we honestly weren't sure if anyone would show up. It was just the two of us with a dream to build a business of our own. What we realized early on is that running a small business truly takes a village. We wouldn't be here seven years later without our incredible staff, community, and other business owners. Don't be afraid to reach out, ask questions, get to know your neighbors - it might lead to some of the best relationships!
What's the best thing about being in LivCo?
It's a hard toss-up between the people and the place! We've met so many incredible people at both locations over the years, from fellow businesses who have lent a hand, to friendly travelers sharing stories, local musicians sharing their talent, and all of our regulars who have helped us shape the down-to-earth, laid-back vibe that we could've never crafted ourselves if we tried. As for the place, we get the best of both worlds with a rural setting at our Farm and the charm of Main Street Geneseo at our Taproom. Plus, we love that no matter which direction you're coming from you're bound to experience gorgeous Genesee Valley views along the way. If you don't, it's worth the detour on the way home!
Anything else you'd like to add?
We're a participating Harvest Host site and offer a limited number of RV camping sites on the weekends to members! Our Geneseo Taproom is just a 10-minute drive north of the Mount Morris entrance to Letchworth State Park and our Linwood location is just minutes from the Genesee Valley Greenway State Park - trail users are always welcome! Dogs are welcome outdoors at both locations! Our Farm Brewery has lots of outdoor seating and even more space to spread out - feel free to bring the whole family and a few camping chairs!
1906 Main Street

(585) 538-4796
Dublin Corners is a farm "nano" brewery located in the Town of York, NY serving up tastings of fresh local brews Fridays, Saturdays and Sundays. Their beers feature their own home-grown hops and other NYS grown ingredients.
116 Main Street

(585) 447-9416
Dublin Corners is a farm "nano" brewery located in the Town of York, NY. Serving up tastings of fresh local brews Fridays, Saturdays and Sundays that features their own home-grown hops and other NYS grown ingredients.