From farm-fresh bites to kid-friendly outings, summer is all about new adventures! Get inspired and plan a fun-filled weekend trip to LivCo.
THURSDAY
Take an easy drive to the Genesee River Valley for a long weekend getaway by the water. Book a lakehouse on Conesus Lake that is big enough for the whole family to vacation together. As the westernmost Finger Lake, Conesus Lake is known as a year-round destination for water recreation, fishing, sporting, and family fun. Also home to all kinds of vacation rentals, Conesus Lake offers options with varying amenities and features for whatever your family needs!
Start your weekend on the water with Upstate Anglers Guide Service for a morning of fishing, straight from the experts. Offering fishing charters throughout the beautiful Finger Lakes region, Upstate Anglers specializes in Bass, Walleye, Pike, and panfish. They cater to experienced anglers, first-timers, and everyone in between! You'll be accompanied by two experienced guides who are eager to provide you with a memorable adventure guiding you in the sport they love. You will be fishing in one of two, fully-rigged tournament bass boats equipped with the latest technology. Plus Upstate Anglers provides all the equipment so you don't have to lug anything along with you on your travels.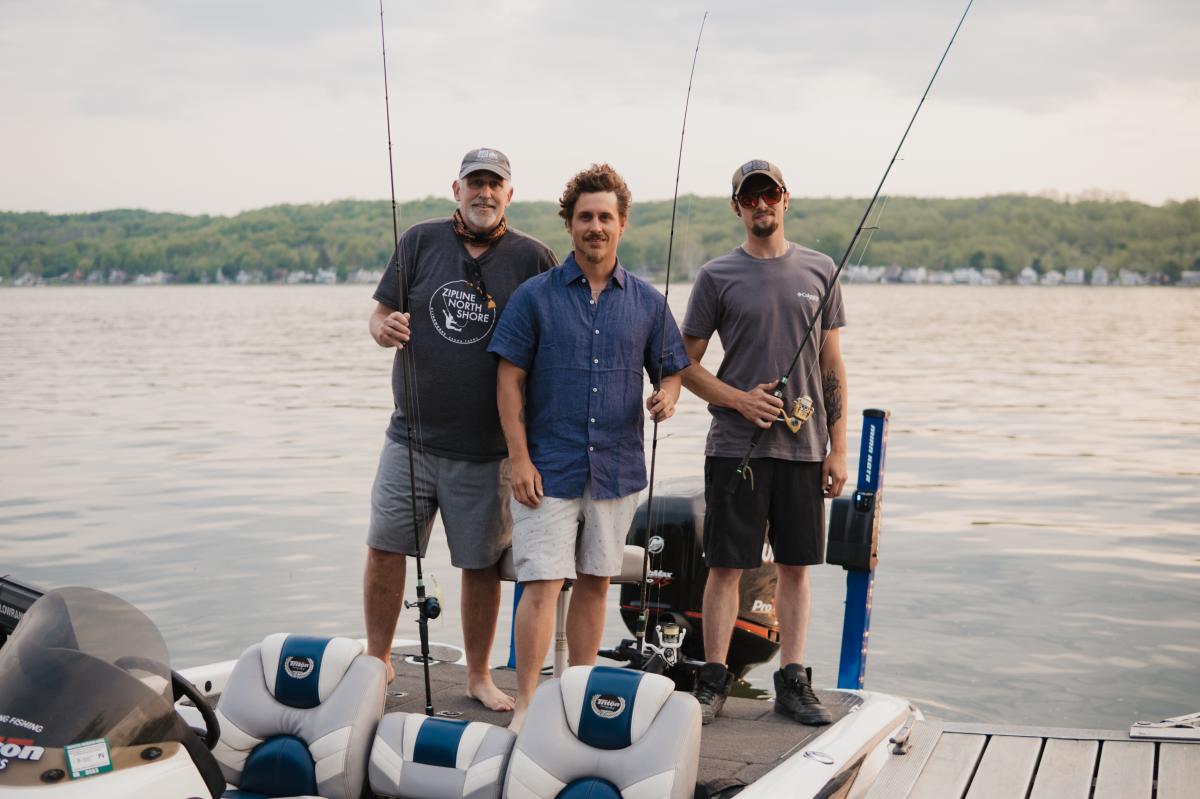 Afterward, head over to Shoreless Acres General Store, where they serve up burgers, fries, subs and specialty sandwiches, along with Prime Rib and Fish Fry's on certain days. You'll love this general store's unique finds, tasty food, and Conesus Lake merchandise so much, you'll want to stop back again and again. And if you do, they serve homemade apple cider donuts on the weekends.
While you're out and about, swing by the 1812 Store nearby in Livonia for a little retail therapy. This store embodies the spirit of a country store with a variety of antiques and artisan wares.
In the afternoon, head back out on to the water by renting a pontoon boat from one of the local spots such as Tropical Creations Boat Rentals or Conesus Lake Boat Rentals. Take the boat out for a spin and spend time swimming, floating, or just sailing across the water with the lake breeze blowing through your hair. If you're looking for a bit more adventure, Conesus Lake is a popular spot for wakeboarding, tubing, or jet skiing as well.
When you're ready for a break (and some dinner), dock at the Beachcomber for a bite to eat and some on-land fun. The Cabana and Dockside Grill features darts, a pool table, beach volleyball, and other games you can enjoy. Hang out at a picnic table or in a beach chair on their sandy beach while munching on beachside classics littleneck clams, seafood chowder, or a basket of fried shrimp with fries. They often host live music performances, too. If you prefer some time indoors, head into their cozy and inviting vintage-style restaurant, the Crab Shack Restaurant and Pub. It's the only existing restaurant and bar left from the nearly twenty dining spots that used to be open around Conesus Lake!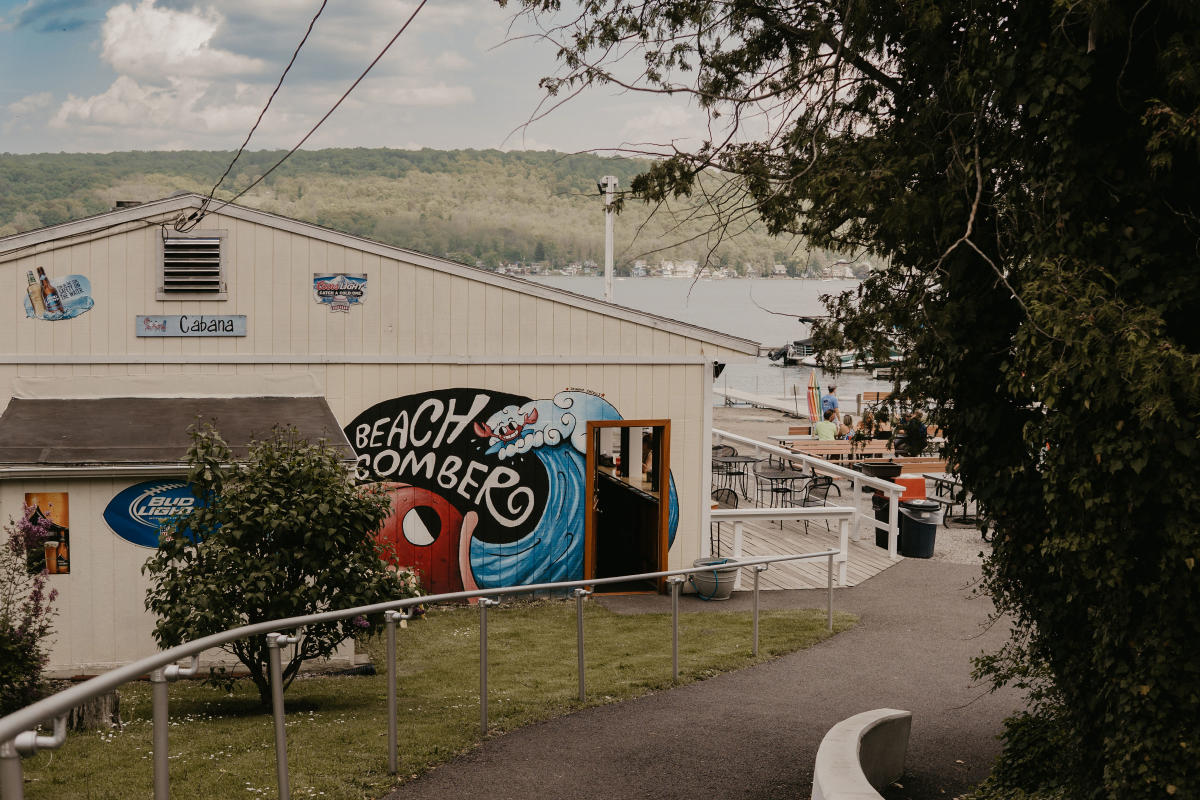 Once the sun starts to set, head back to your lakehouse cozied up by a warm fire roasting s'mores while you gaze up at the starry night above the lake.
FRIDAY
Wake up early for a full day of adventuring, good food, and family fun. Start the day at little Lake Brewing, just steps away from Conesus Lake, this hidden gem serves up hearty breakfast sandwiches, freshly baked pastries, and hot coffee brewed on-site. If you can't get enough of their tasty treats, purchase a few extras for the road!
When the kids are ready for fun, head south to the Backyard Barnyard, a petting zoo and family fun center, in Mount Morris. With a host of farm animals, kids' activities, and arts and crafts, your little ones won't ever want to leave. But when you're ready for a change of pace, stop by the Mount Morris Dam and Recreation Area. Explore the Visitor Center to learn more about the dam or join one of the park rangers for a free guided walking tour of the dam. Spend time outside on the park grounds or playground to enjoy captivating overlooks, hiking trails, and maybe even spot some local wildlife.
After all those adventures, you'll be ready to fuel up for the rest of the day. Make the trip south to Kish-a-wa Creamery in Nunda. Known for endless flavors of unique, farm-fresh ice cream along with old-fashioned favorites, Kish-a-wa also serves up a menu of lunch favorites including burgers, hot dogs, and fries made with local and regional farm-sourced ingredients. And it will be nearly impossible to resist ordering ice cream while there, be sure to check out their extensive menu of flavors and creations perfect for cooling down during a warm summer day.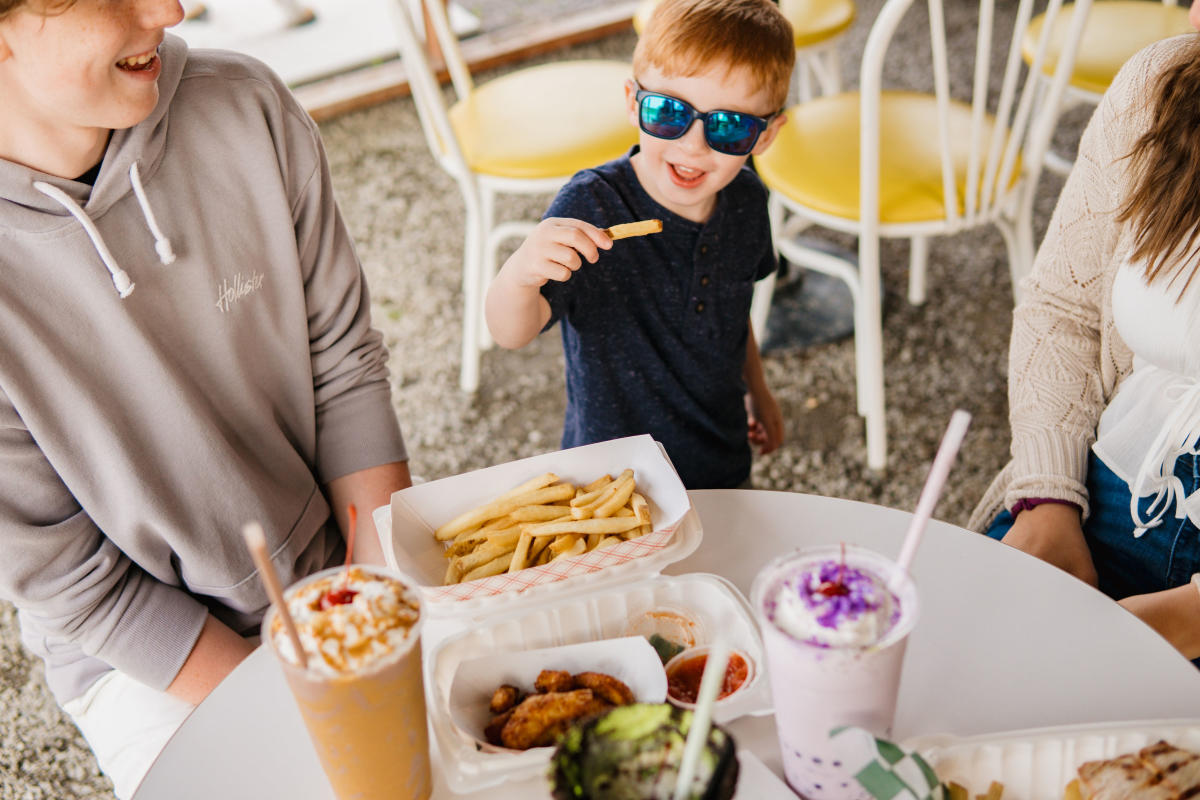 On the way back north, take a leisurely drive through Letchworth State Park to experience the majesty of the Genesee River flowing over three waterfalls (the tallest is 106 feet) carving out a vast canyon with sheer walls and lush forests.
Close out an exciting day at the East Avon Vintage Drive-In Theatre which offers the ideal drive-in experience for movie lovers. Enjoy an outdoor double-feature with your friends and family from the comfort of your own vehicle. Entry for children under the age of four is free. Stop by the snack stand for tasty treats to enjoy during the movie.
SATURDAY
The adventures continue on Saturday! Start the day off strong at the National Warplane Museum where you and your family can hop in the iconic Whiskey 7 airplane and fly into the sky. Dedicated to the preservation and display of significant historical and military aircraft and artifacts, you'll be sure to learn something new at this museum.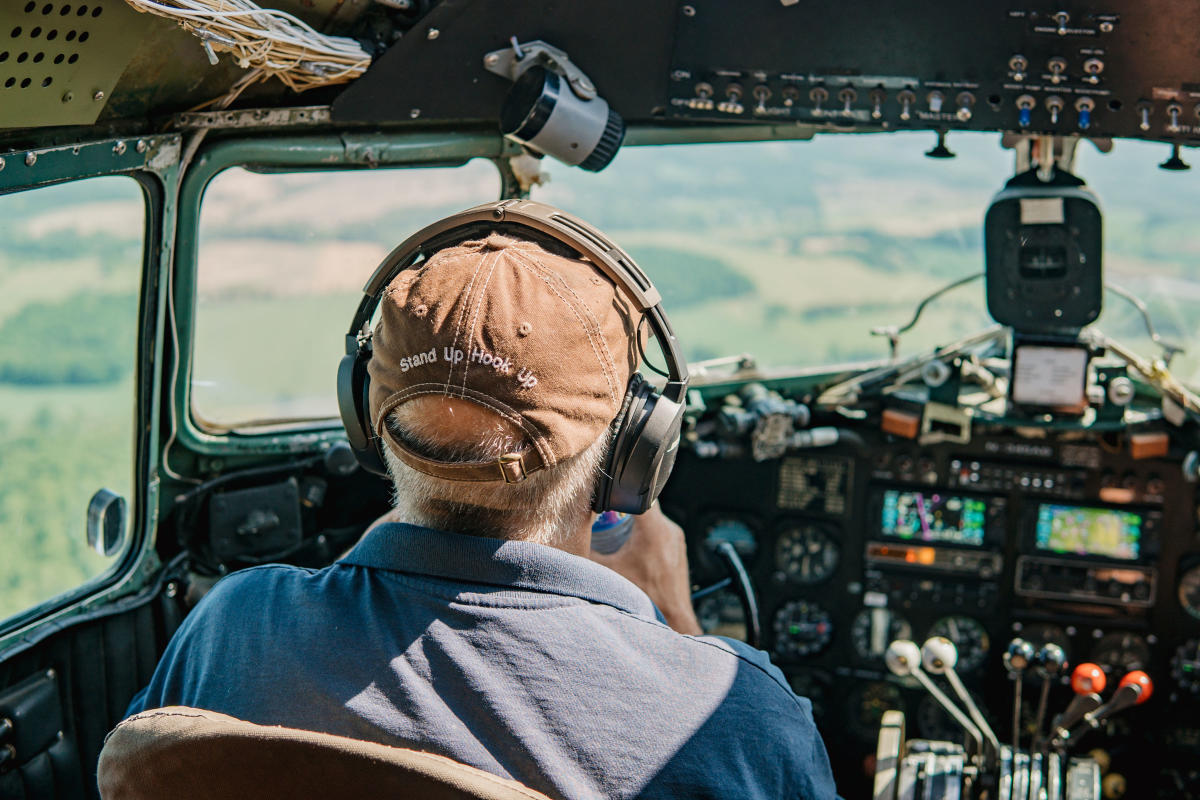 After your time in the sky, grab lunch at Strange Design Public House, Geneseo's only brewery. Try their loaded salads, saucy chicken wings, or stacked burgers. As a stop on the LivCo Libation Loop, you'll want to sip their craft beer too! And if you're in the mood for more freshly brewed libations, make a pitstop at one of the many craft beverage spots nearby including No BS Brew Company, OSB Ciderworks, Deer Run Winery, and little Lake Brewing.
Make your way back toward Conesus Lake and stop at Vitale Park where you can sit by the water and bask in the lake breeze. Explore the on-site gazebo, playground, and Chip Holt Nature Center which provides interactive educational programs. Keep the waterfront experience going with dinner on the shores of Conesus Lake at Galene. Serving up classic coastal and American cuisine, this restaurant is a year-round destination with beautiful views of the water, exemplary hospitality, and a wide range of culinary offerings as well as craft beer, specialty cocktails, and local wines.
Because there is nothing quite like a Genesee River Valley sunset, make sure to enjoy the setting sun over Conesus Lake. Whether you're sitting on a dock, lounging in a lawn chair, or taking the boat out for a sunset sail, there's no better way to close out the night and reconnect with nature.
SUNDAY
It's the last day of your long weekend! Head over to Geneseo for early morning coffee and breakfast tacos at Cosmic Charlie Cafe. Afterward, get out and stretch your legs on the Erie-Attica Trail which runs along a beautiful truss bridge that spans 220 feet across the Genesee River. This wooded rail trail begins on the west end of Avon and continues west just over a mile to Genesee Valley Greenway State Park.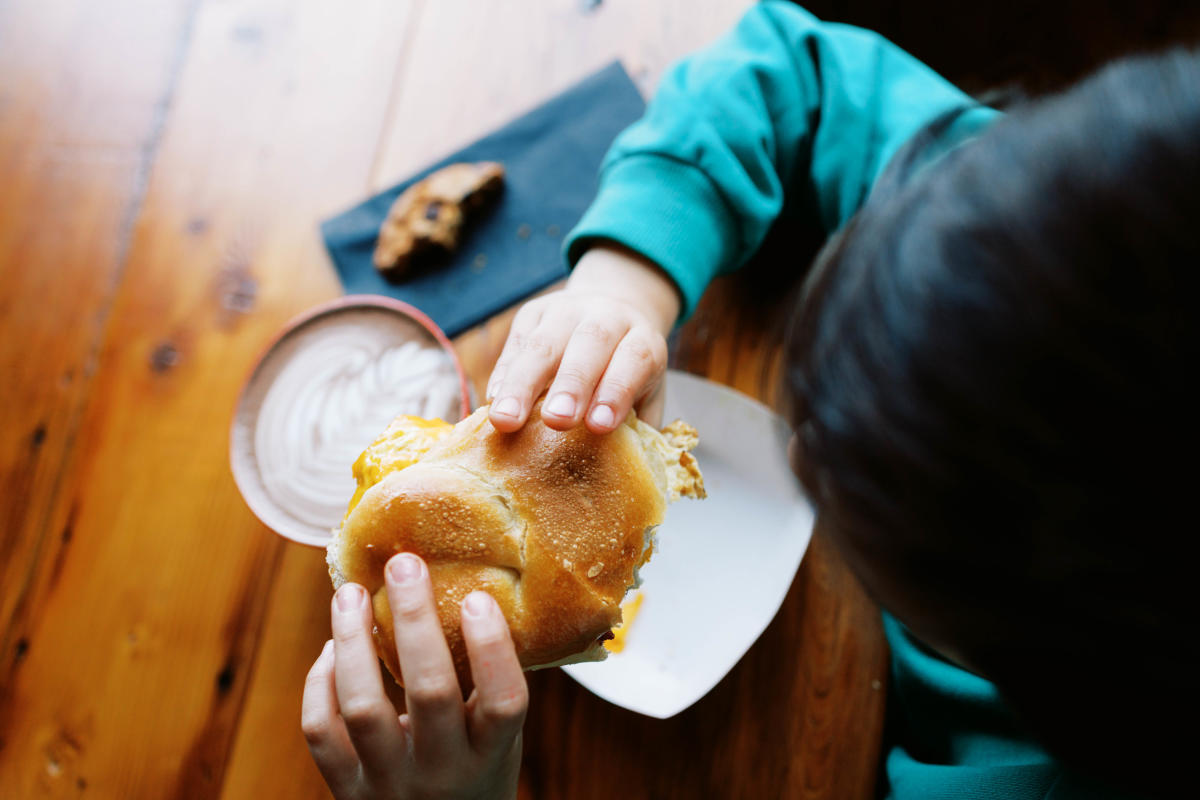 On Sundays, the Vintage Drive-In Theater in Avon transforms into the local-favorite East Avon Flea Market. Explore the market where you'll find antiques, furniture, novelties, produce, food trucks, and more. Be sure to make a stop at another flea market nearby, the Exit 9 Flea Market, located in a converted old barn with indoor and outdoor shopping.
Keep the shopping day going at the Crossroads Antique Mall in Lima. Located in a former church, this shopping destination offers a wide range of items including rare and hard-to-find collectibles, furniture, books, jewelry, glassware, home decor, and kitchenware.
Close out your weekend of foodie finds and kid-friendly adventures at the Normal in downtown Lima. The first completely tipless restaurant in LivCo, using Nordic ingredients and sustainable practices, is an ode to Scandinavian-style, farm-to-table cuisine. And although the menu includes many takes on barbecue classics, those looking for vegan, vegetarian, or seafood options will also find lots to love.