What better backdrop for your big day than a world bursting into bloom?
If you're looking for an elegantly rustic wedding venue, consider a Wells Barn. Perfect for the couple seeking a historic yet unpretentious place to celebrate, a Wells Barn wedding is the ideal venue in the countryside.
Get married in a one-of-a-kind piece of history. 
A Wells Barn signifies a barn built by John Wells, a 19th-century barn builder. Born in nearby Scottsville, Wells trademarked a revolutionary way of building barns that removed the need for any inside structural support and instead created a country cathedral.
While a Wells Barn may look much like any other on the outside, inside the ceilings soar high uninterrupted, supported by giant arches. What appears as nothing more than a historic barn is revealed to be a country cathedral; with arched ceiling supports, a wide-open interior space, and plenty of room for dancing, dinner, and merriment. Wells' design created a layout like no other, a wide-open space that makes a celebration of any size feel like a grand party. 
These barns are unique to the Northeast. Most were built around the Genesee River Valley although Wells did travel to the Hudson Valley, Pennsylvania, Ohio, and Maine for a few builds. Though Wells and his team built over 200 barns, today just over 40 remain. Driving through the countryside, you can easily identify a Wells Barn by its pointed and slanted roof shape.
Built in 1913, the Avon Century Barn is a quintessential Wells Barn with high ceilings, a cathedral interior space, and sloped roofing. Unless you asked, you'd never know your stunning venue was once a functional livestock barn.
The structure has remained unchanged but the inside has been renovated and restored, with glistening chandeliers, decorative lights strung from the ceiling, and dramatic drapings to create a magical space. The open layout provides options to make every couple's dream come true. Outside, the impeccably maintained grounds provide the feeling of stepping back in time to when the barn was first raised.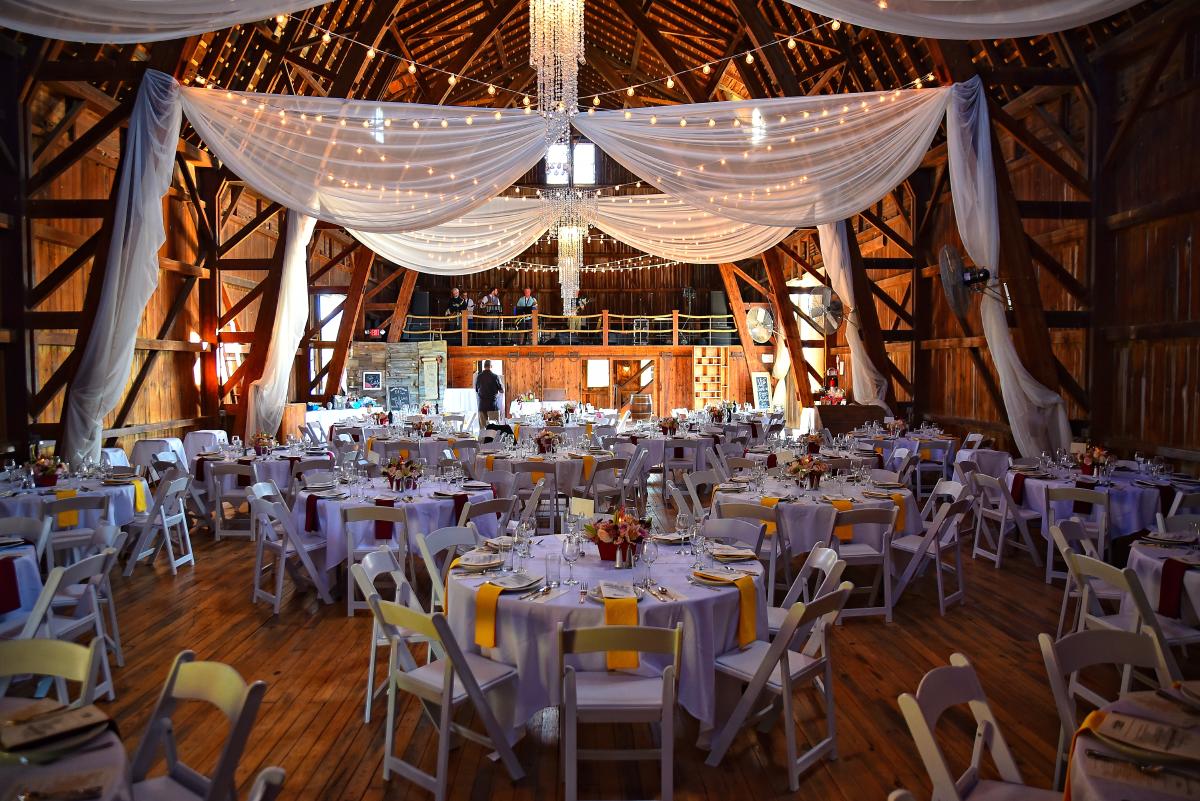 Tucked on over 300 acres of pristine country land, the Oak Knolls Manor in Caledonia is everything you've dreamed of in a country escape. The 1890 Wells Barn on the property is a fully rehabbed blank slate that brings elegance and reverence to any wedding. With striking chandeliers, sweeping 36-foot ceilings, and plenty of room for your closest friends and family, Oak Knolls Manor has everything you need to make your dream a reality. 
This is the only known 2-part Wells Barn where a smaller barn is connected into a larger one, giving you a multitude of options for layout and event flow. Your day will be easy with an on-site bridal suite with stunning valley views.