Dive into the great outdoors on your next camping or glamping trip in the Genesee River Valley.
Nature lovers can enjoy fresh air, glorious forests, and clear lakes on a weekend (or longer) camping trip. There's nothing that quite allows you to connect with the great outdoors like a camping trip. Living, eating, playing, and sleeping in the fresh air, surrounded by nature, beneath the sun and stars — it's an experience unlike any other.
Whether you're a long-time camping pro or a parent with a family camping trip on your summer bucket list, LivCo has you covered with multiple places to pitch your tent or park your RV, and so many of them are within easy reach of your favorite outdoor activities like kayaking, hiking, swimming, and biking. Plus, LivCo is a region known for dark skies, the area's lack of light pollution provides excellent views of the night sky. You've never seen a night sky like this, awash in the glittering glow of thousands of stars. Keep reading for a round-up of local camping and glamping spots across the county.
LIVCO CAMPGROUNDS OFFER FAMILY-FRIENDLY FUN AROUND EVERY CORNER
One of the top places to set up camp in LivCo, Letchworth State Park offers a range of lodging options, from traditional campsites to cabins to accessible lodging. You'll never run out of summer fun here, thanks to the wealth of on-site activities. Take a stroll down the nature trail, channel your inner equestrian on the bridle path, or take a dip in the refreshing pool. You can even pick up ice cream at their in-park stands on extra hot days.
Stony Brook State Park similarly boasts lots of activity and amenities, with its own nature trail, plus playing fields and tennis courts. The Ridge Campground likewise keeps you entertained with a pool, fishing ponds, volleyball courts, horseshoe pits, a café, and even an outdoor movie theater. 
Prefer to stick closer to the water? Try Conesus Lake Campground, where you can rent a kayak, rowboat, or pontoon for the day. Of course, some travelers prefer a more secluded escape. Rustic retreats and tent camping only are what you'll find at Sonyea State Forest and Ossian State Forest.
Need even more options? We've got 'em. Tamarack Campground, Hope Valley Campground, and Holiday Hill Campground are likewise popular camping options with plenty of amenities and spots to set up the tent or motorhome for a week filled with outdoor, family-friendly fun.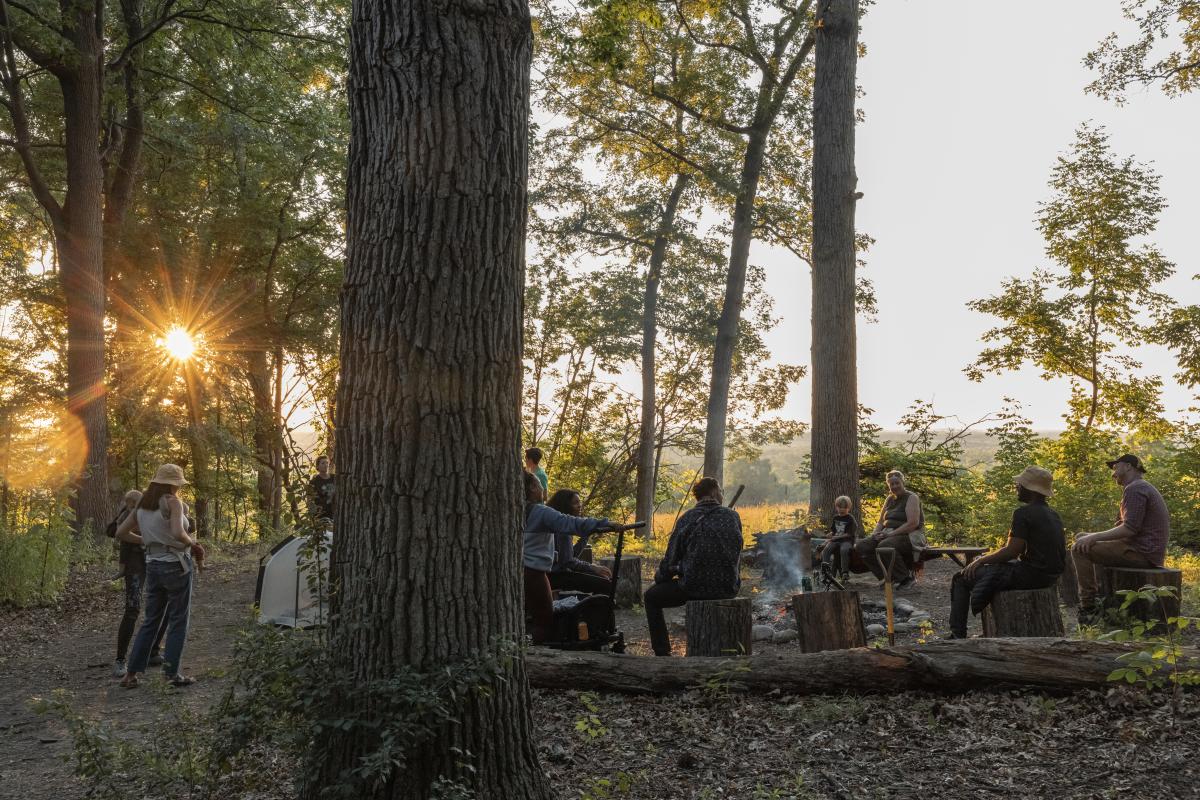 SOMETHING FOR EVERY STYLE AND BUDGET
If you still have yet to find your perfect camping fit in LivCo, you do have more options. For RVers looking for an ultra-unique spot to stay, HarvestHosts.com is your place to go for booking RV spots in unusual (but entirely fun!) locales, like wineries and museums. Similarly, HipCamp.com allows you to book camping spots that are privately owned rather than formal campgrounds. And, if these don't offer enough amenities, consider browsing LivCo's many vacation rentals on AirBnB or VRBO, which include charming homes, cabins, inns, and more.
WHERE LUXURY MEETS THE GREAT OUTDOORS
Not interested in old-fashioned camping, you say? Don't care for the bugs, sleeping bags or lack of amenities? What if we told you that you can have the best of both worlds — all the peace, quiet, and beautiful natural surroundings of camping, but without giving up any of the creature comforts you crave? Glamping offers the best parts of camping — a roaring fire, s'mores, star gazing — but paired with upgraded accommodations (no tent pitching for you!), real beds, WiFi, and other necessities.
Hemlock, New York
Don't care for the idea of roughing it? Say no more. FLX Glamping offers a one-of-a-kind glamping experience near both vineyards and water. Just steps away from the secluded Hemlock Lake, each glamping site is outfitted with a queen-size bed, deck, seating and a heated shower. However, you also get classic camping amenities like a fire pit for s'mores-making and fireside chats. Thirsty? O-Neh-Da Vineyards is just a short walk away where you can enjoy the flavors of the Finger Lakes as well as a lineup of live music all summer.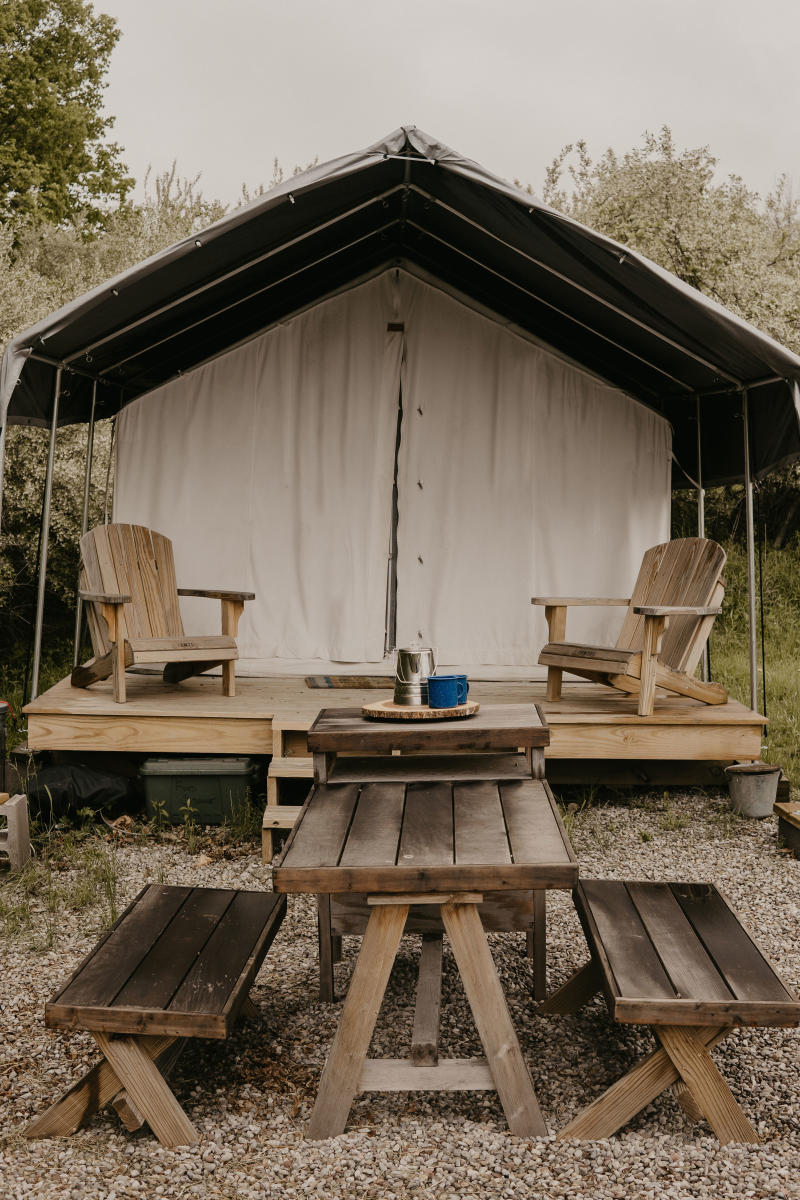 Once you've settled into your campsite, you'll have nothing but beautiful scenery, fresh air and lots of bonding time ahead of you. But how do you fill those hours? It's time to think back to your days at sleepaway camp.​
Go Bird Watching
Like knitting before it, bird-watching is one of those grandma-and-grandpa hobbies that is experiencing a resurgence in coolness. Grab some binoculars and see how many different species you can spot.
Sketch What You See
There's a long, artistic tradition of creating masterpieces en plein air, out in the open of nature. Pack sketchbooks and art supplies, find a picturesque spot, settle down, and let the inspiration strike.
Tell Campfire Stories
Gather around the blaze and spin out your best yarns. Telling campfire stories is a fun activity that brings friends and family together. Regardless of age or gender, everyone enjoys listening to a good (maybe scary) story.
Make S'mores
If you go camping and don't make s'mores, does it even count as camping? Finish off the evening with a couple of roasted marshmallows sandwiched between melting chocolate and crunchy graham crackers.
---
STARGAZING SITES
Escape the bright lights of the city and enjoy the magic of our dark skies. Let the Milky Way galaxy wash over you, see stars, planets, shooting stars, and more - here in the Heart of the Genesee River Valley. When the sun goes down, look up. The constellations shine brightest in these dark sky destinations.
Hemlock Lake
Hemlock Lake is the perfect location for those seeking tranquility in nature. The land is quiet and undeveloped—meaning there's nothing between you and its gorgeous view. At night, the calm, clear lake acts as a glass mirror to the dancing lights above it. Lay on a blanket on the picturesque spaces along the shore or sit at a charming white gazebo at the edge of the lake for a romantic stargazing experience. This is where many photographers head to capture the Milky Way, looking south.
Harriet Hollister Spencer State Recreation Area
During the day, Harriet Hollister Spencer State Recreation Area serves as a destination for all-season outdoor activities, including hiking and biking, cross-country skiing and more. As soon as the sun sets, this recreational haven turns into one of the best views of the sky in the Finger Lakes Region. Climb as high as your heart desires and you'll be saying "oh my stars" at the night sky spectacle, with Honeoye Lake and the Rochester skyline in the distance.
Letchworth State Park
Dubbed the "Grand Canyon of the East," Letchworth State Park is a top destination for stargazing in New York. The park is lucky to have some of the darkest skies above its 14,427 acres. It's a stunning place to spend at least a day as the park is home to jaw-dropping scenery, with waterfalls, lush forests, and towering cliffs. Some of the best spots to stargaze are on the south end of the park, and include the Upper Falls/Genesee Arch Bridge, Inspiration Point and Archery Field Overlook. The dark evening sky is spectacular all year long, so put it on your must see list!