Don your tall boots and Barbour jackets, it's time to embrace horse culture this autumn.
The equestrian-obsessed are said to have one thing in common: they love every single minute of the lifestyle. In the Genesee River Valley, famous for its rich landscape and rolling fields, you'll find the ideal equestrian paradise.
Step into a region that feels like visiting the English countryside. Equestrian culture is special in LivCo. Whether you want to ride horses or watch them from afar, you'll find a unique lifestyle in the Genesee River Valley, rooted in hundreds of years of history. In ways no other animal could, horses have been our constant and irreplaceable companions for hundreds of years. For those who are ready to harness horsepower, you'll find extensive trail systems, comfortable riding weather, and vibrant horse culture in the heart of the Genesee River Valley. And, of course, horse racing.
Horseback Riding
Saddle up! Traveling on horseback has long been the best way to explore the Genesee River Valley, and today's riders will see much of the same sights and scenery as early settlers. Let the lush forests captivate you with the steady rhythm of hoofbeats. Beginners can opt for a short ride through the woods, while experienced equestrians can create the forest ride of their dreams.
Horseback riding can be a very exciting adventure for lovers of nature. Enjoy a day to yourself surrounded by the beautiful valley landscape while horseback riding in the Genesee River Valley. With tons of farms, stables, and ranches to choose from, beginners and avid riders alike can participate in a unique outdoor experience. Horseback riding provides a combination of working out with a rewarding mental challenge. It improves hand-eye coordination and stimulates positive psychological feelings. So find your next adventure on horseback at these ranches and farms.
Dansville, New York
Overland Morgan Horse Farm, owned by Bob and Michelle Vanderboschs, is situated on a hilltop in the township of Ossian, New York overlooking the valley. Trained by Michelle and her daughter Beth, their horses are a close nit clan of registered American Morgans of old-style lineage, which means they are built thicker and heavier muscled, ideal for riding hills and trails.
Head to Overland and hit the trail with a comfortable and easy-going horse ride through several hundred acres of wooded trails leading to beautiful hilltop scenic views! You'll enjoy riding at a horse-walking pace with an occasional trot which means no experience is necessary to participate. Plus your guide will provide a tutorial before leaving. Riders will be fitted with riding boots and helmets, or you can bring your own. Get ready for all the likes on your next Instagram post because each horse saddle has a horn bag for your phone so you can snap photos while you ride (safely!).
Nunda, New York
From trail rides by moonlight to English and Western riding lessons for all skill levels, you'll find incredible experiences and views at Nunda Ranch. With 50 acres of land, the ranch offers a network of trails ranging from easy to intense terrain. No matter your experience level you are sure to enjoy the scenery and beauty of the surrounding valley. Riding with a guide is available through reservation.
And if you're looking to enhance your riding skills, their trainers will provide the tools you need to feel challenged and empowered. They offer lessons for horse jumping, roping, and barrel racing. It's a fun way to get outdoors and no prior horse riding experience is required!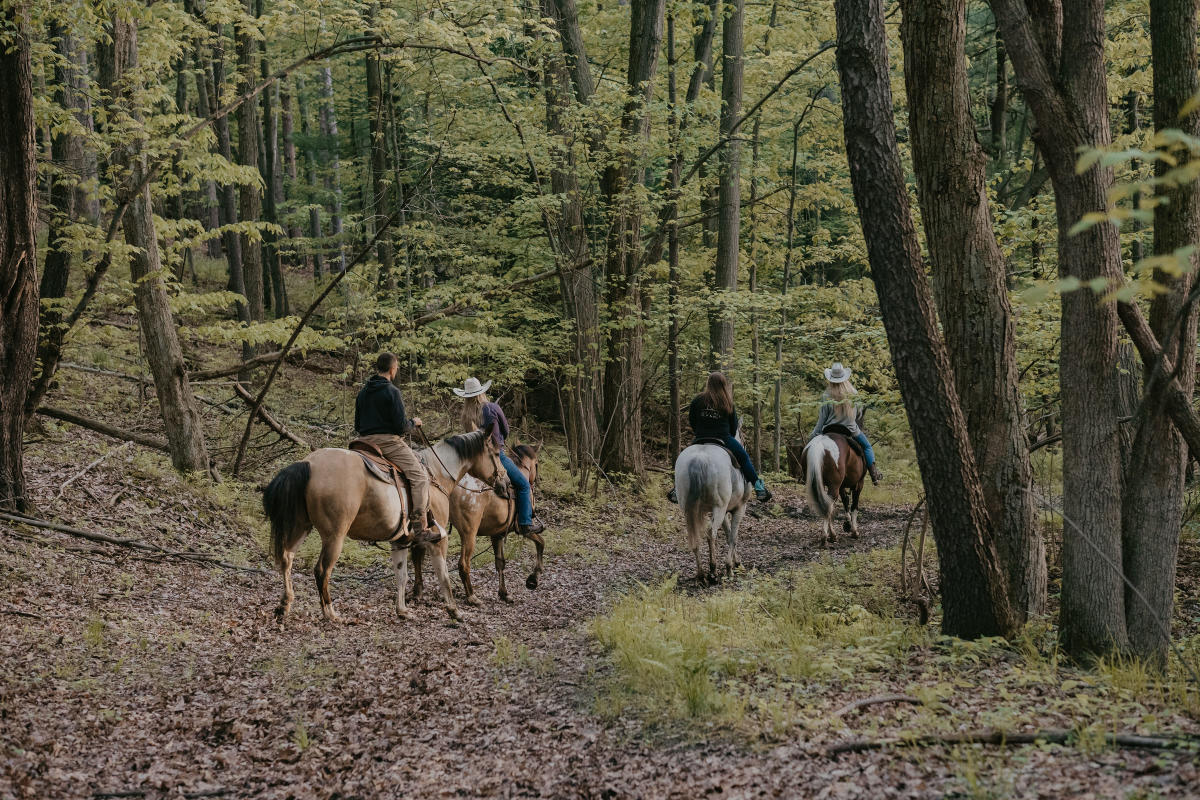 Dansville, New York
Visit Letchworth Farm, a working horse farm, owned by Daisy Trayford and her husband Richard who have more than 20 years of experience working with horses. Their trail horses are kept specifically for their guided trail rides and are suitable for riders of all levels of experience.
All rides are accompanied by an expert guide who will be there to assist you along the trail. Plus, they offer specialty rides including their two-hour ice cream ride for more experienced riders (ice cream included of course!).
Parade of Horses & Hounds
The Genesee River Valley has a rich history of horse culture, with the Genesee Valley Hunt Club celebrating its 146th consecutive year this September. On Saturday, September 24th at sunrise, visitors can line up along Main Street in Geneseo to watch the Parade of Horses and Hounds, which begins at the Wadsworth Homestead, then makes its way down Main Street to Hartford House for the opening weekend of the hunt season. This spectacle of riders on horseback in their formal frock coats, with the long-legged foxhounds trotting obediently at the horses' sides, is a rare glimpse into the formality of many years ago.
Genesee Valley Hunt Races
An event that has taken place in Geneseo for more than 120 years, the Genesee Valley Hunt Races is a family-friendly, daylong horse racing event happening on Saturday, October 8th this year. With over $30,000 in prize money, the Genesee Valley Hunt Races attract steeplechasers from across the eastern seaboard to compete. The day includes a petting zoo and stick-horse races for the kids, craft beverages and foods, shopping, and live music. You will get to enjoy dog jumping and agility competitions, sled-dog demos, and "weiner dog" and Jack Russell Terrier races, in addition to equine events, horse racing, and tailgating picnics!
The Hunt Races take place in a large rolling field converted into a grass race course. In the feature races, Thoroughbreds race three miles in a true test of stamina and athleticism, jumping 18 timber fences, all within view of the spectators. In other races, the contenders are ponies, stock horses, draft horses, and polo ponies — shorter races but still lots of fun.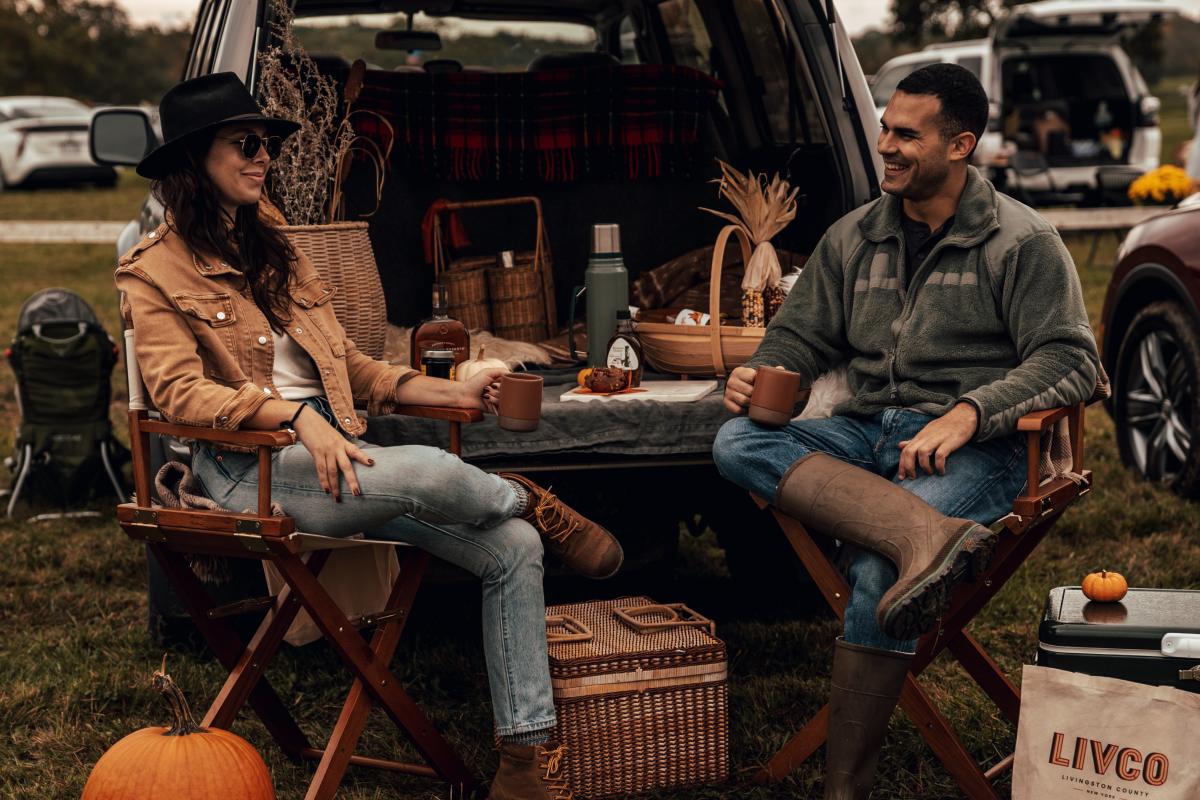 One of the best ways to celebrate a fall day at the races is with a tailgate picnic. Invite your family, friends, and neighbors and lay out a picnic spread in the back of your SUV, mini-cooper, or pick-up — any type of vehicle works. Whether your style is grand with champagne, silver chafing dishes, and crystal goblets, or rustic with checkered tablecloths, chips and dip, and craft beer, create a personalized tailgate experience that you and your guests will love! At the tailgate, you'll be right on the front lines to watch the horses race by as well. 
Have a competitive side? There is an annual Tailgate Competition that you can enter with award categories including "Best Culinary Experience," "Best Hunt/Equestrian Theme," and "Best New York State Farm to Tailgate." The sky is the limit for the competition - we encourage you to go "full method" - come in costume, and bring your best ice sculpture, elaborate grazing board, or beverage fountain to wow the judges.
Guest chefs and celebrities judge the tailgates on presentation and taste with first, second, and third place awards in each category. Our team will be hosting a tailgate as well, so be sure to stop by the Visit LivCo picnic for a treat!
The Hunt Races are a dog-lovers paradise! Enjoy the great outdoors with your friendly, leashed dog. Vendors will be set up on the grounds offering food, drinks, and shopping throughout the day. Make sure to check out the New York Food and Wine Farmers' Market where you can enjoy samples of local cheeses, wines, craft beer, and spirits. The Hunt Races is like an old-fashioned country fair with a race track instead of a midway. You won't want to miss it!