Welcome to Bills Country
Think football, and odds are, you'll think tailgating. And with good reason — tailgating is among the most time-honored and revered American sporting traditions, especially in Western New York. Tailgating means festivities, food, and fans. And chicken wings. Don't forget the wings.
The American football tailgate party combines the attributes of a festival, the air of a birthday party, and the tradition of a ritual to create something utterly unique in sports. For Bills fans, tailgating is a lifestyle.
Buffalo Bills tailgating is a unique Western New York tradition our visitors have to see to believe. The game-day rituals are about creating bonds, celebrating community, nurturing tradition, and supporting the spirit of the team.
Buffalo Bills fans, also known as the #billsmafia, are known for fervent team loyalty, colorful adornments, and tailgating that is legendary throughout the National Football League. With the team gaining traction in recent years led by quarterback, Josh Allen, you're sure to see some passionate fans celebrating on game day. To some, Bills Mafia traditions are bizarre. To this fan base, they are the ties that bind.
The Bills Mafia has come to define the team's entire fan base. Whether you descend upon the parking lot of Highmark Stadium in Orchard Park, New York, or watch from the comfort of your favorite LivCo bar on game day, you'll feel a bond with every fan sporting the team colors. From chanting with foam fingers to seeing everyone decked out in blue and red jerseys to eating plates of chicken wings, game days are a big deal in Western New York. 
Football season brings the locals of Western New York together more than anything else. We are counting down the days to the home opener… and we know you are too.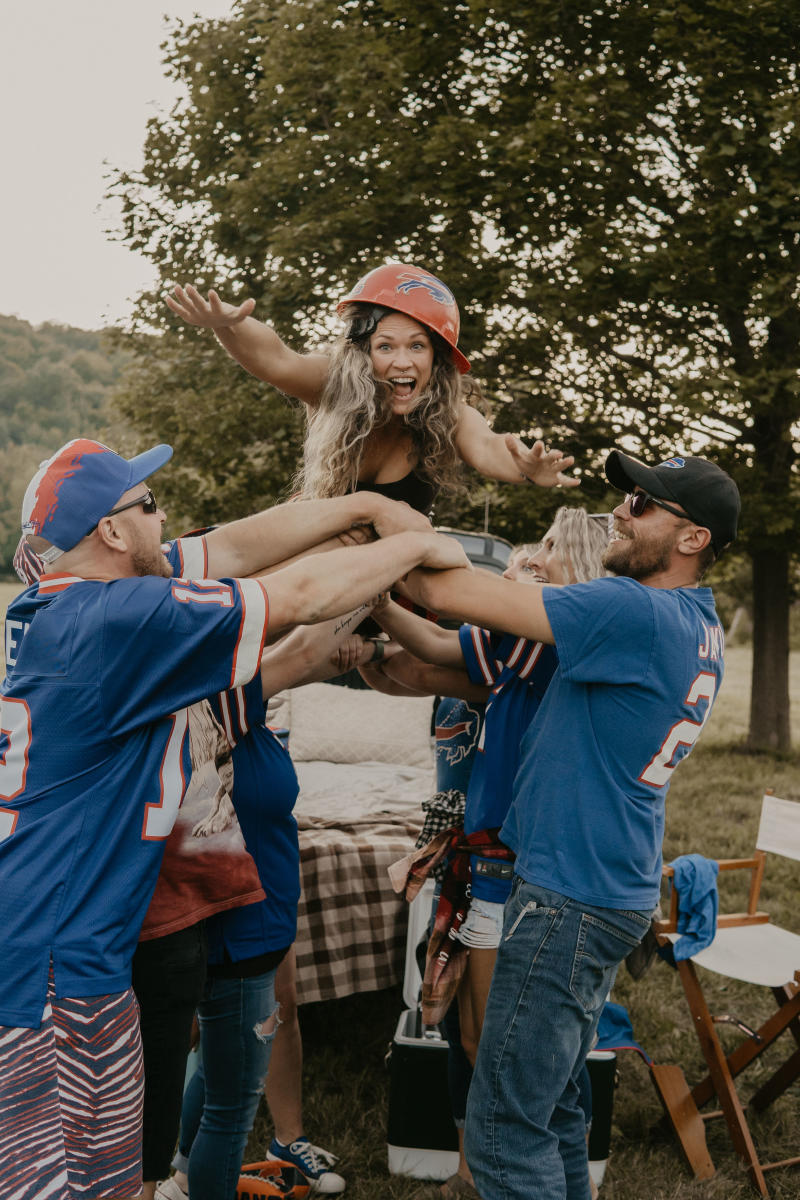 Just Wing It
No tailgate is complete without another Buffalo tradition, the chicken wing. The origin story of the chicken wing revolves around Teressa Bellissimo, co-owner of the original Anchor Bar in Buffalo, New York. 
According to Teressa's husband Frank, on an undetermined date in the 1960s, the culinary innovation happened when the restaurant received an incorrect shipment. Instead of getting the typical chicken backs and necks for Teressa's famous spaghetti sauce, they got a shipment of wings. Not wanting to waste perfectly good chicken, Frank asked Teressa to try to make something new with the unwanted ingredient. She cut them in half, deep-fried them, and dunked them in hot sauce. And thus, the famed appetizer was born.
Buffalo wings have been so ingrained in our national food culture that it is hard to remember life before wings. Wings are a prime example of a food that incorporates so many of the traits that Western New York culture is known for. Thrift — wings come from the part of the chicken most people threw away or used for soups and stocks. Ingenuity — the combination of simple, at-hand materials to make a new item. And eating with your hands — there is simplicity in eating with your fingers. If you've never snacked on wings during a football tailgate, we recommend you try it out.
Wings are now consumed differently all across the country. But in Western New York, they are consumed the way they were invented by Teressa: served in either hot, medium, or mild buffalo sauce, with blue cheese and celery. No ranch allowed.
Calling All Wing Lovers
Continue the fun at the Geneseo Chicken Wing Festival!
Hosted every September on Center Street in Geneseo, enjoy all types of wings at the Annual Geneseo Chicken Wing Festival. At this event, you'll get the chance to sample chicken wings from local restaurants, try chicken wing pizza, and taste locally-made desserts. 
Want to prove your love of chicken wings? Outside the Geneseo Riviera, you can participate in contests like the volcano wings eating contest, bobbing for wings, and speed-eating contests.
Explore More Fall Events
Find Your Spot
While in Western New York, anyone in a Bills jersey is greeted with a nod and a raise of a drink in sportsmanly solidarity. Ask anyone in Western New York about their plans on a Thursday, Sunday or Monday in the fall, and the answer is most likely football related. It's a community builder that spans ages, whether you're rooting for the Buffalo Bills … or the wrong team. For nights when watching the game from home isn't on the docket, we've rounded up a few of the best sports bars and pubs in LivCo for wings, cold beers, and channels set to your favorite game.