Summer fashion calls for bright colors and bold patterns, and no one does that better than Jazz House Designs. 
Jazz House Designs sells handcrafted, one-of-a-kind earrings that are as durable as they are eye-catching, perfect for making a statement on all of your summer adventures.
Jazz House Designs is run by Michael Fambro, a Livingston County local, and daughter of world-renowned musician Miché Fambro. Michael's earrings are funky and fun, an eye-catching display of shapes, colors, and patterns. Whether you prefer studs or dangly earrings, you'll find a pair you just can't live without.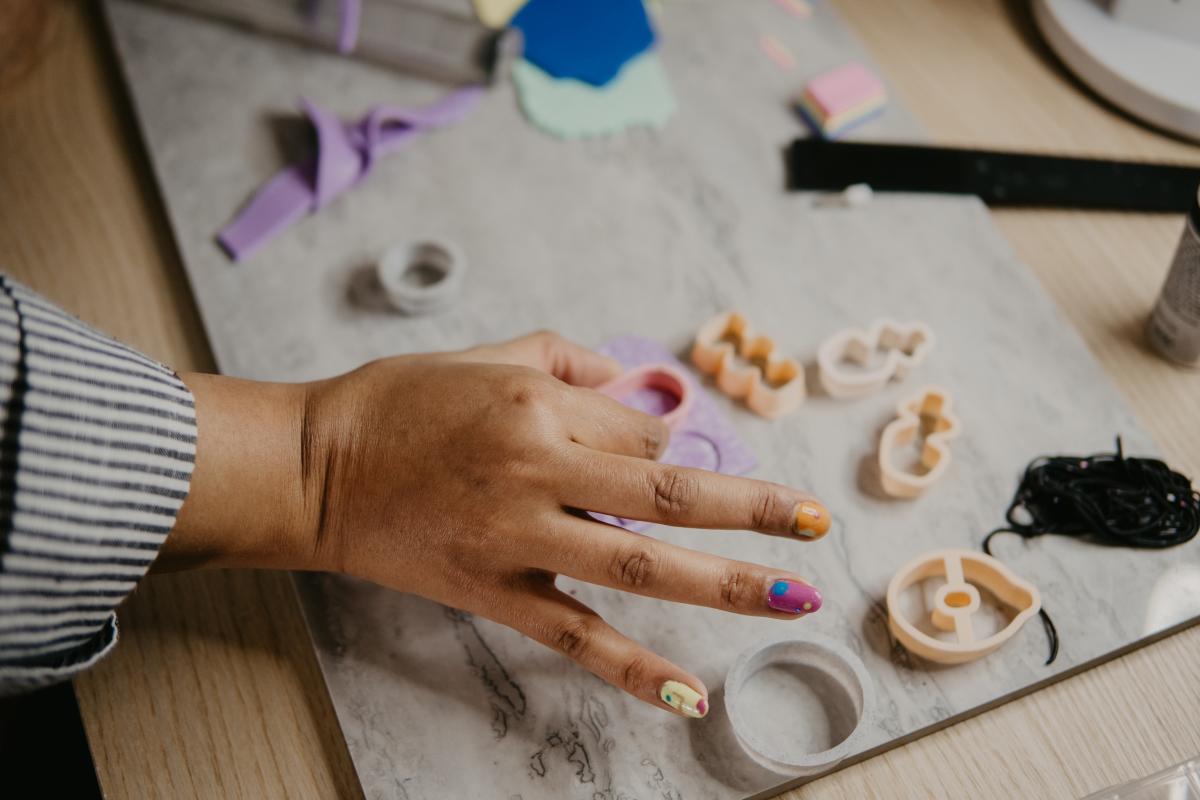 Her earrings are made from polymer clay, a light, durable, sculpting medium. The metal pieces are made from nickel-free stainless steel, so they won't irritate even the most sensitive of ears. With proper care, Michael's earrings can last years, long enough to pass down to your kids or even grandkids (but she can't guarantee they'll appreciate your style!).
Jazz House Designs was created to honor the memory of Michael's father, celebrating his legacy as a jazz musician. When he passed in 2020, Michael found solace in listening to his record collection while she worked with her hands, shaping the clay that would eventually become what Jazz House is today. But her business also celebrates the bond they shared over music and performing, two things Michael loves as much as her father did. The names of her pieces are inspired by jazz history; music and artists, and the influence it has on her pieces is clear.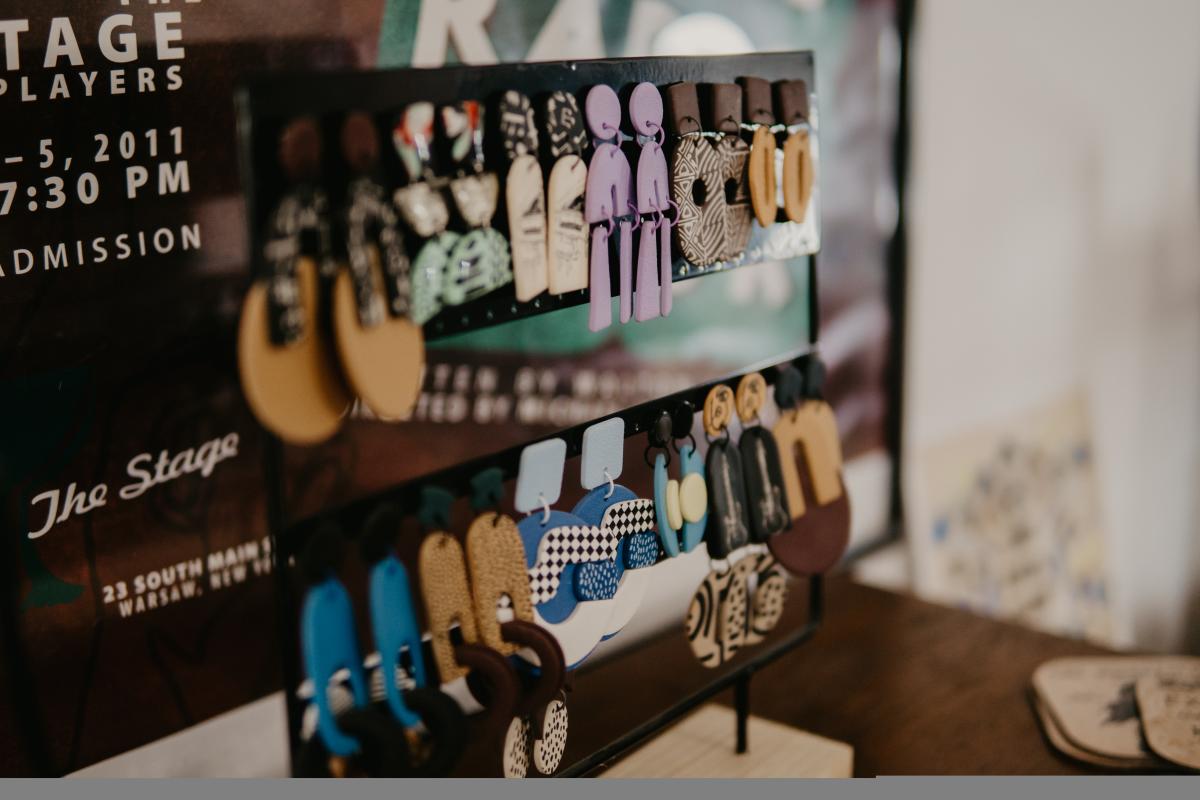 Michael has deep roots in the Genesee River Valley, where generations of her family have lived, so it was only right to her that this was where she started her business. You can find Jazz House Designs on Instagram, purchase her earrings online, or stop in-store at the Gallery in the Valley on Main Street in Geneseo to browse her earrings, along with other local artists. 
Shop online at jazzhousedesigns.com
Shop in-store at the Gallery in the Valley in Geneseo, New York
---
Describe your style:
At Jazz House, my motto is "good music & big earrings". My earrings are bold, funky, rhythmic, geometric. I am a child of the 90s, so I'm not afraid of crazy prints, pattern clashing, or color blocking.
Why earrings?
I've always had a passion for big, funky earrings, and finding that perfect unique pair has been a quest I've been on ever since I got my ears pierced. Honestly, I can't believe it took me so long to figure out that I ought to just be making my own! Accessorizing is such a fun way to express yourself. I feel like I can tell a lot about a person by the earrings they're wearing. The human body is a blank canvas and how you've chosen to decorate it says a lot about the person you are.
What is your creative process?
First, the fun part. Getting your design together and creating it. That's a very meditative process. The music is going, you're mixing your own colors, you're finessing this clay, shaping it. Then comes the meticulous part – baking them, sanding them, drilling them, the assembly. There's a lot of being hunched over, finger cramping, and trying to get each piece as flawless as possible. I would say that "blood, sweat, and tears" is an applicable phrase.

How did you get into polymer clay?
It was a combination of circumstance and grief. It was a pandemic and all the theaters had shut down – I work in theater, so I suddenly had time on my hands and creative energy that had no place to go. Also happening at the time, my father had died. My father was world-renowned musician Miché Fambro. We were extremely close, and the grief hit me hard. I had inherited his immense vinyl collection. I couldn't listen to Dad's music, but I found that I could listen to the records, and it was a nice way to bond with Dad from afar. I would listen to an album while playing with clay. He introduced me to the deep tracks of Sonny Rollins, Duke Ellington, Bill Evans, Johnny Guitar Watson, so much Frank Sinatra I can't count, underground punk of the 80s, so much classical.
Listening to these albums, and every time working with clay while I did - I got pretty good by record #43, really good by #67 and by the time I got to #103, I had so many freakin' earrings I had to figure out what the hell to do with them. So, I decided to pick up the ol' family trade and sign up for a festival.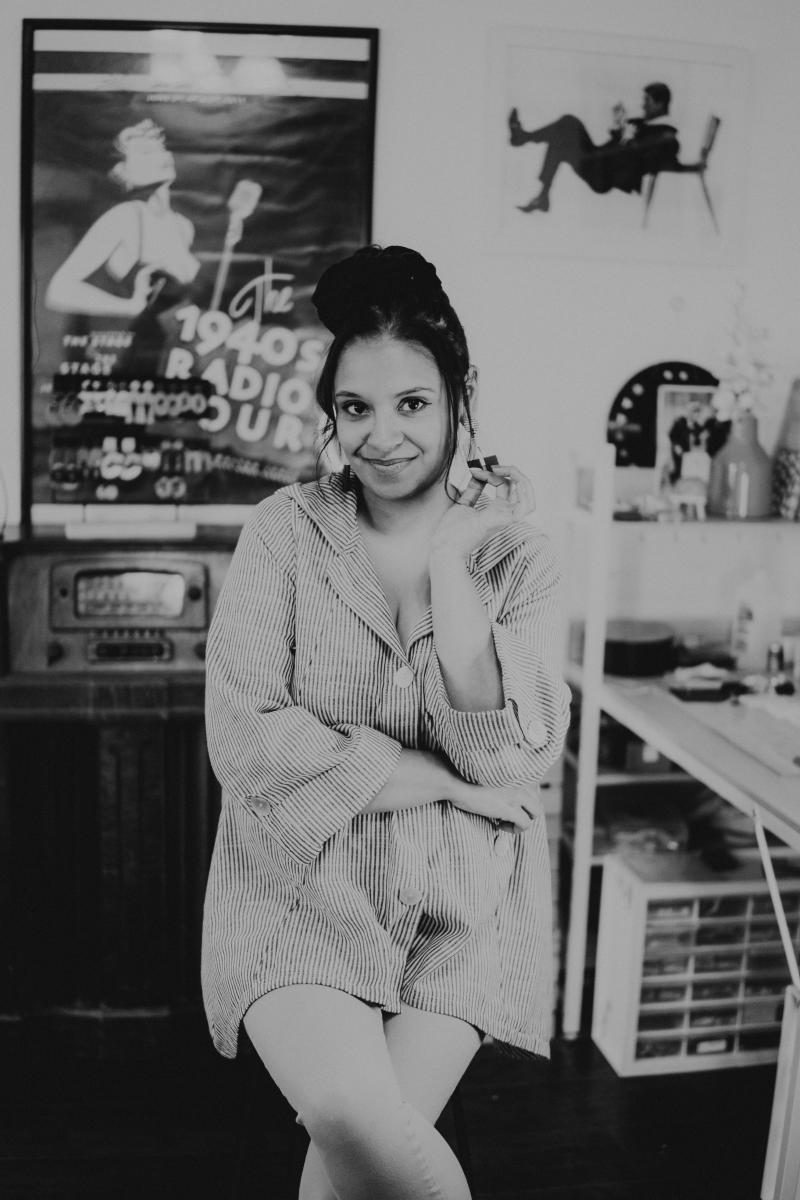 Where does the jazz come in?
I remember talking to a friend about our personal heroes. She is a clever, highly educated person, really knows her stuff. But, I told her that Ella Fitzgerald was one of my heroes and she had never heard of her! This was madness to me, and then I started realizing that hardly anybody knew about jazz musicians – most people think of Frank Sinatra – and I love Frank, but really? There are so many great jazz musicians. That's when I realized that I could try to keep these names alive and help educate people on jazz history. It's musical history, it's Black history, and it's American history. I realize that I'm just one person, I can't do much – but I can try. I think that's all that a meaningful life asks of us, really, is to try. It's been a lot of fun – I've learned a lot along the way.
What's a fun jazz fact?
Gosh, everyone in jazz has had a pretty wild life. Charles Mingus, stand up bassist and composer was a lifelong professional jazz musician, but he also wrote a book. "The Charles Mingus CAT-alog for Toilet Training Your Cat" I wish I could tell you that it's an edgy jazz book, but it's quite literally a book about how to toilet train your cat. I guess we all have side passions? Also, Duke Ellington's first piano teacher was named Marietta Clinkscales. Maybe I'm the only one that thinks it's funny, but honestly what else can you do with your life other than be a piano teacher with the last name Clinkscales?
And finally, who is the best jazz artist of all time?
Ella Fitzgerald, no question.