Accessible art that blends functionality with fine craft.
When most people think of art, drawing and painting come to mind. But for artist Stacey Mrva – a professional metal sculptor – art comes in the form of welding, taking a cold, rigid material and transforming it into something with fluid and organic lines.
Welding is both an art and a science that combines trade skills with technology. And few people know that welders play an integral role in objects they see and interact with every day. Welders are critical to American products and industries. From our daily transportation to our buildings and homes, welding touches what we ride in, work in, live in, watch and use.
In a refurbished barn in Springwater, New York, welder Stacey Mrva has spent the last 25 years establishing a vast portfolio of custom pieces for both public and private spaces. The stunning results have included everything from steel furniture and railings to public signage, interior wall art, and lighting — all made of hot rolled steel bent by hand and eye. Mrva's pieces often integrate fabric, copper, concrete and wicker, shaping her signature style which can be tailored to any setting.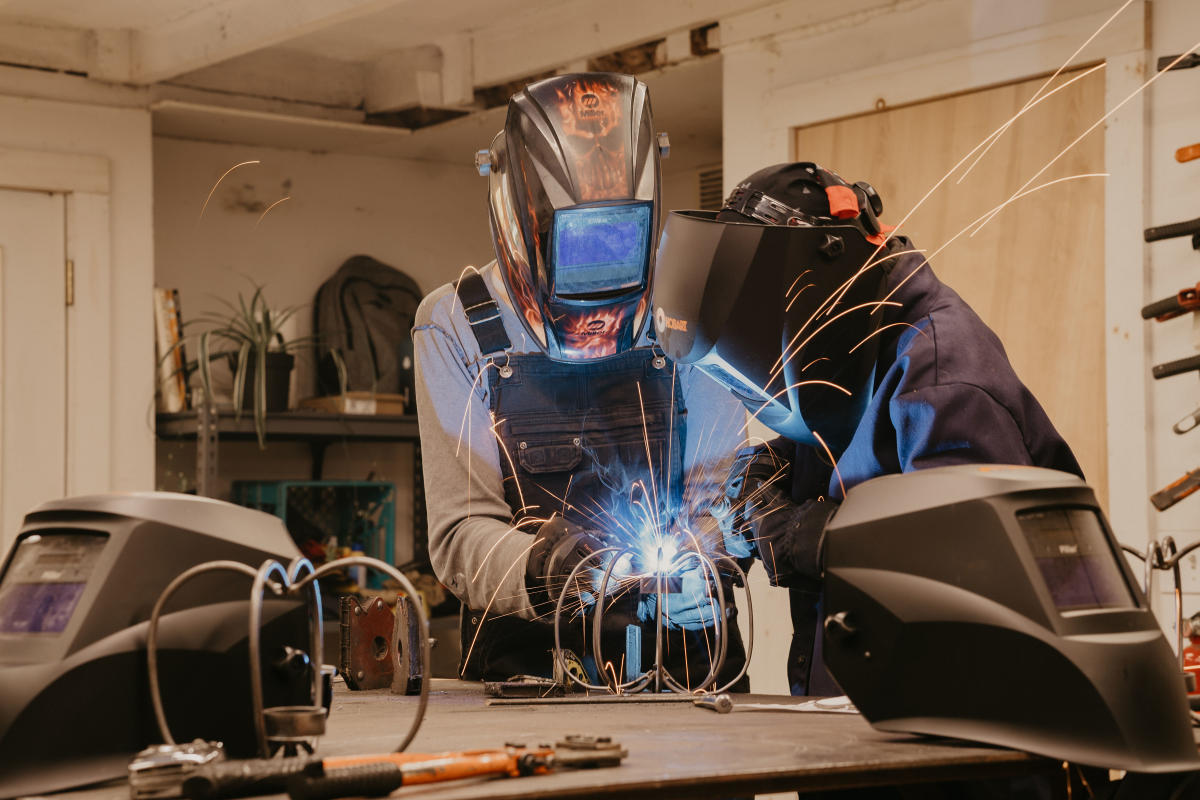 ---
Are you originally from this area?
I grew up in Fairport, but lived in Rochester for the past 25 years. I had always rented an apartment, and then had studio space in a warehouse. During the pandemic, my husband and I would take country drives for recreation and that's when we first considered moving and began to look at homes. I'm a big hiker and camper and my husband is a big kayaker and fisherman so he had been to Canadice often. We set our house hunt limit to 45 minutes from Rochester, and went from a South Wedge 2BR to a farmhouse with three acres and a barn that converted into an antique shop, just 52 minutes away from the city.
Your website tagline is functional + fine art. Tell us a little bit about what you do, and how those words play into it.
I studied at Syracuse University and received a sculpture degree. My professors always said, "don't make functional things, that's not art," but I found people were more apt to spend money on something artistic that's also functional. It's a cool way to get your artwork out in the public or into people's homes. It's also a way to distinguish me from a fabricator, since I get approached a lot to fix or build things. There's more art to what I do, and fabricators have more skills than I do.
You create custom metalworking pieces for both public and private spaces. Tell me about some of the work you're most proud of, whether local or national.
One of my first big commissions that I still love and visit once in a while is a mixed media piece I did for the Penfield branch of The Summit Federal Credit Union. It's a big light fixture that you can see at night when it's lit, incorporating copper and fabric and steel. The piece I am most proud of would be the sculpture of Blanche Calloway (Cab Calloway's sister) that will be installed at the Otto Henderberg Park in the Swillburg Neighborhood of Rochester in Spring 2023. I was commissioned by the neighborhood association to create a sculpture to honor her, (because she was) the first female band leader in the 1930s.
Is art your full-time gig?
I just left my full-time job in April 2022 – that was kind of the point of the move down here. I was the director of operations for F. Oliver's, I did that for six years. It is a wonderful local woman-led, family owned business, and the business skills and connections I made there put me in a good position to make this move.
What advice would you give to someone else who dreams of being an artist?
You can plan for it just so much, and fear can hold you back. But in the end, when it's something you're truly passionate about, you're gonna find a way to make it work.
What's the most important lesson you've learned as a full-time artist?
Connection! My biggest accomplishments recently are these benches I've been doing for a few neighborhood associations - the benches were the catalyst for going full-time because they gave me the financial flexibility to do that, and there is the opportunity to do more. There are now 10 benches on South Clinton Avenue in Rochester, and four in Leroy. The surprising thing is seeing the reaction to how I've been able to take these scenes from the community and transform them into a functional piece of art.
So far, what's a common misconception about being a full-time artist?
That it's all just play and I'm having fun in my shop all day long. But like I said, the business skills are a muscle I'm working; reaching out, networking, making connections. I was really happy to go to a recent networking event at the Wadsworth Homestead about making your business a holiday destination. It was great to connect with other business owners.
What's the best thing about Livingston County?
We love hiking around Canadice, and very often we'll call the Canadice Lake Outfitters and have them drop a canoe to us so we can go fishing. One of our favorite restaurants is The Borikén, a Puerto Rican restaurant in Mount Morris. Milk and Honey in Lima for coffee, where my go-to order is a flat white. Monroe County is great, but Livingston County is a small town feel, one where you can really get to know people.
What's coming up for you in 2023?
The plan is to run welding workshops for women in my barn. As much as I love creating artwork, I love connecting with people and sharing my passion more. It's empowering to get the equipment in people's hands and work in a safe environment with other women. In 2023, we'll probably do classes a few times a month. Next up: I need to expand the barn, maybe hire someone, and get more equipment so I can have classes bigger than four people.
Why did you live and operate your business in Livingston County?
We chose Livingston County because we love the Finger Lakes region. We're right near Hemlock and Canadice – the two protected Finger Lakes – so we feel like we live in a state forest. Honestly, I sometimes feel like I'm living on vacation.