Nine Villages. Nine Murals. Nine Festivals.
LivCo Walls Mural Festival will bring world-class artists to create nine high-quality murals — one in each village of Livingston County during the month of July. The murals will be unveiled over the course of three weekends with festivals in each village.
This year, a new kind of festival is coming to Livingston County.
Everyone wants to live somewhere beautiful. When art meets public space, the end result is more than a mural, it's an inviting gathering space for locals and visitors alike. 
At the intersection of art and community, the LivCo Walls Mural Festival celebrates the people and spaces that make our communities great. Over the course of three weeks, from July 9th to July 23rd, nine world-class artists will converge in LivCo to create stunning murals in nine villages. 
Each mural will be painted by a skilled muralist who was competitively selected to work in LivCo and has a matter of weeks to turn their vision into a reality. 
Each of these villages has a vibrant, beating heart that welcomes residents and visitors alike to wander the walkable streets, visit family-owned businesses, and enjoy a sense of life without all the hustle and bustle. These murals are more than intricately designed works of art, they provide a vibrant backdrop and a sense of pride for our communities. 
The purpose of art is to bring people together, so over the course of the mural festival, there will also be events and celebrations! Enjoy food, drinks, dancing, and laughter as we gather to celebrate the best of what it means to be a community. 
Follow the Art
Discover Miles of Art on the Inspirations Trail. The Livingston County Inspirations Trail started in 2020 as a way to promote public art in the downtown districts of our nine villages. 
The Inspirations Trail was created as a 90-mile self-guided art tour through the nine downtowns district of Livingston County. The mission of the trail is to use art to inspire and encourage locals and visitors to discover new businesses and destinations. Artists will create sustainable public art pieces that can be enjoyed for years to come.
From downtown villages to inspiring views — this is a trail of Inspiration. Murals, sculptures, storefront displays — we challenge you to find them all! Find out more about the trail at inspirationstrail.com.
Meet the muralists of #LivCoWalls joining us from around the world...
Meet two locals helping create public art.
Public art enriches communities and beautifies villages. We aim to include locals in the creation of beautiful art through an educational apprentice program this summer.  
In addition to the nine world-class muralists visiting Livingston County this summer, we are excited to incorporate apprentices in the LivCo Walls Mural Festival! The Apprentice Program offers aspiring artists the chance to garner valuable experience installing large-scale murals with our festival muralists. Apprentices will learn how to scale a mural design to fit a building, learn about different mediums, and expand their artist network! All nine muralists will work with apprentices including two of our local apprentices below. 
Erin Sweeney
Erin Sweeney grew up on Conesus Lake and now lives in Geneseo where she runs a small framing business. Erin is an acrylic painter and collage artist in the early stages of building her art career. Erin applied to be an apprentice because she loves Geneseo, wants to see it elevated through art, and learn from an experienced muralist.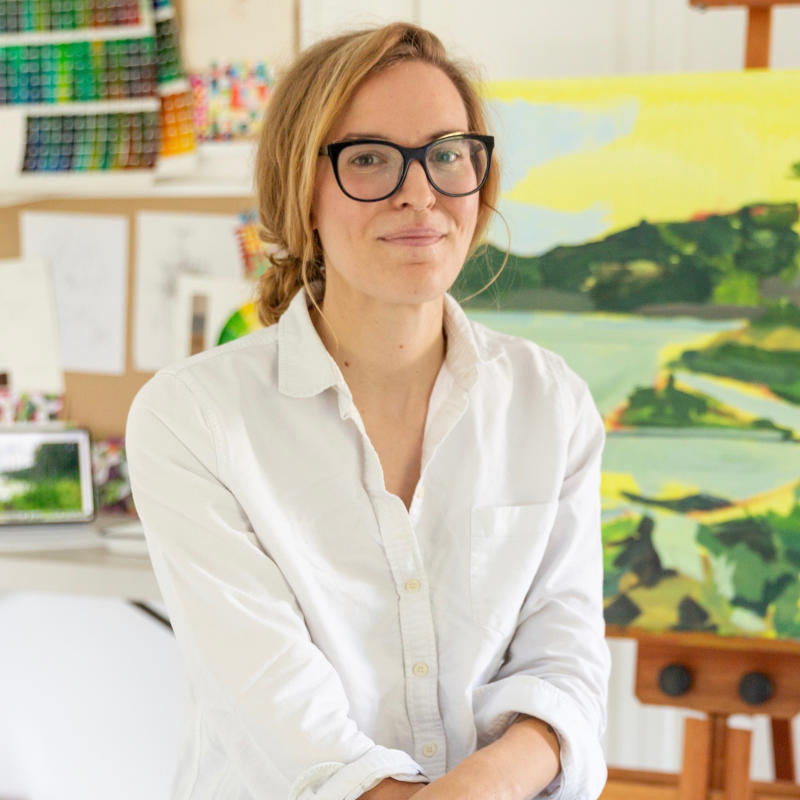 Bill White
Owner of the Caledonia studio, the Village Gallery, Bill White has been a professional painter for 60 years. Bill spent over 40 years as a Professor at Hollins University teaching Drawing and Painting and Modern Art History. Bill will apprentice in Caledonia on a mural just steps away from his studio.