There's no need to leave your best friend behind when you embark on a LivCo getaway!
The dog days of summer may be over, but your pup is welcome during all seasons in LivCo! With miles of open spaces, public parks, waterways, and pet-friendly businesses, you never have to leave your favorite furry friend at home again.
Luckily for us, the Genesee River Valley is home to a bunch of dog-friendly hiking trails, shops, restaurants, breweries, and patios to choose from on those days that make you excited to hang out with your canine companion (and maybe even your friends and family). When bringing your pooch out in public, please keep your dog's personality in mind, be respectful of the place you're in, and the people around you.
Places to Hike
It's the perfect time of year to get outdoors and who better to spend it with than your favorite furry friend. Yes, we are talking about that little doggo of yours. The Genesee River Valley is full of hiking trails for you and your dog to enjoy together. Whether you are looking for a challenging hike or a laid-back stroll, opportunities to take in the beautiful nature of the area are just steps away. If this sounds like the workout experience you and your dog have been looking for, then check out these dog-friendly hiking trails around the region.
Geneseo, New York
If you want to escape into nature on a dog-friendly trail, Indian Fort Nature Preserve is the perfect place to go. This 60-acre forest has several miles of beginner-friendly trails, shoreline views of the Genesee River, and the remnants of structures built by the Onon:dowa'ga tribe, a member of the Haudenosaunee League of Nations. Pack a snack for you and your pup along with plenty of water to explore all day. Don't forget a towel in case the water looks too good for your dog to resist!
Mount Morris, New York
If you want to stay close to the action without braving the crowds at Letchworth, nearby Al Lorenz State Park is a great option to get into the woods and tire your dog out. This park has 80 acres of forest with a 4-mile looped that's easy to follow and takes you past the shores of the Genesee River. Make sure to keep your dog or cat on a leash, under control at all times, and clean up and dispose of any pet waste while visiting.
Dansville, New York
Take your pet on a hike chock-full of waterfalls, cliffs, and forest-covered woodlands at Stony Brook State Park. You can choose from three different hiking trails, we recommend the Gorge Trail which is the easiest and most scenic. Spend your day exploring with your pet, just make sure they are supervised and leashed at all times.
Parks to Explore
Highland Park
23 Highland Road, Geneseo, New York
Off-leash? Yes, in the fenced dog park.
Mark Tubbs Memorial Park
7384 Ziegler Drive, Lima, New York
Off-leash? No, please keep your pup leashed.
Avon Driving Park
350 Spring Street, Avon, New York
Off-leash? No, please keep your pup leashed.
Babcock Park
Rotary Park, Dansville, New York
Off-leash? No, please keep your pup leashed.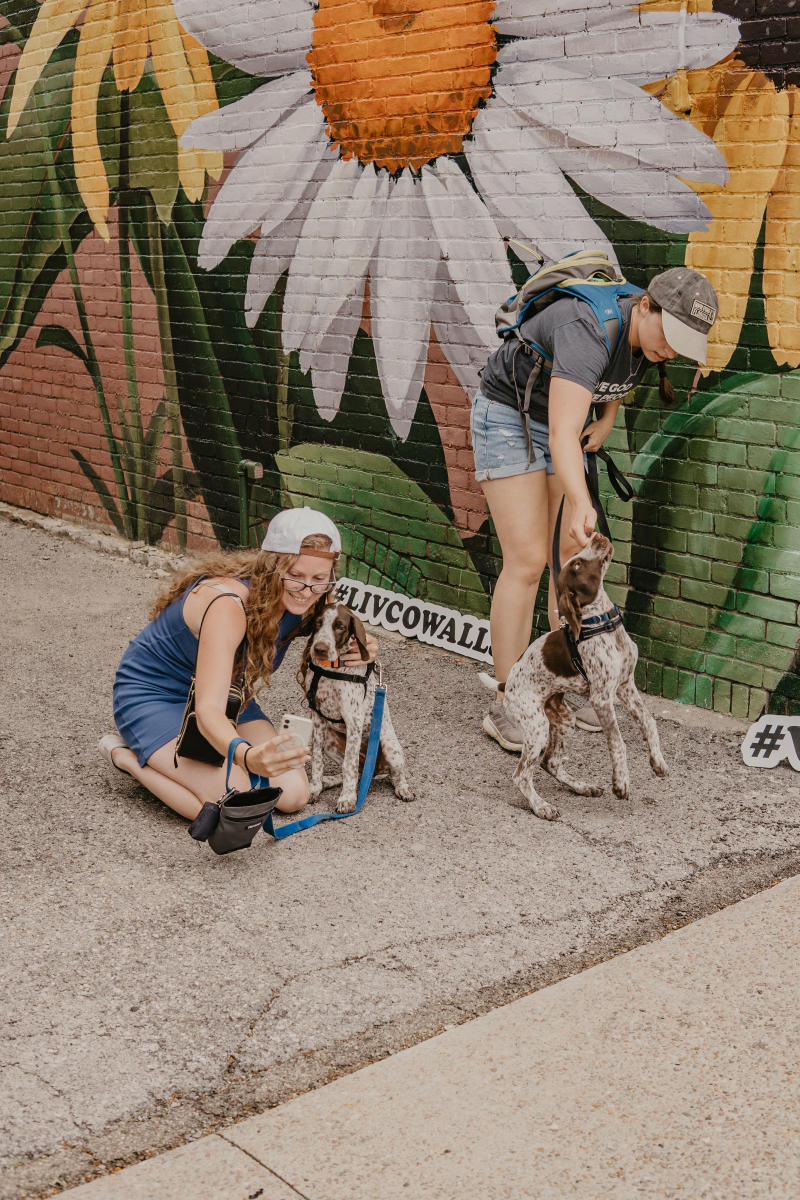 Farmers Markets
Grab your tote bag and a leash because your furry friends are welcome at all of our farmer's markets! Shop local produce, home goods, artwork, ethically-raised meats and more as you and Fido explore the best of what LivCo has to offer. You'll find something delicious to eat and tire your pup out at the same time.
Pup-Friendly Patios
The world is becoming more and more dog-friendly. And many of us want to bring our pups everywhere! They are so stinkin' adorable and make the perfect excursion buddies. Don't want to leave your furry friend at home while you grab a bite? LivCo is home to several eateries that welcome your furry friends to grab a seat (under the table) at their pet-friendly patios.